Ariana Grande Performs at Amalie Arena
November 26, 2019
On Sunday, Nov. 24, 2019, Ariana Grande's Sweetener Tour finally came to Tampa's Amelia Arena after the postponing of her original concert date in late may. The multi-platinum, Grammy Award-winning singer performed a total 23 songs with six costume changes to a completely sold out crowd. 
"I really enjoyed the concert. I had been waiting ever since she rescheduled from the original tour date this past summer," says Joely Barkett ('20).
Social House, the pop and R&B musical duo of Michael Foster and Charles Anderson, opened the show. The pair performed all four of their released singles, their most most popular being their debut song "Magic in the Hamptons."
Ariana has partnered with @HeadCountOrg for the #SweetenerWorldTour to create #ThankUNextGen, a program to register new voters! Keep a look out for stands at your venues to get involved! 🗳 pic.twitter.com/e9drtRgkC4

— Ariana Grande Today (@ArianaToday) March 18, 2019
Between the performances of Social House and Grande, screens around the arena played videos of the #ThankYouNextGen campaign, an effort encouraging fans to register or pre register to vote. The hashtag is part of the pop-star's ongoing partnership with HeadCount, a nonprofit voter registration organization. 
"I think it's really awesome of Ari to push her audience to vote. She's using her popularity for a good cause," says Maya Harrell ('20).
Grande began the concert offstage, angelically singing "Raindrops" (a song on her latest album that features her vocals alone). Immediately afterwards, she and her backup dancers rose from the stage elevator and jumped into an elaborate production of "God is a Woman." 
"It was one of my all time favorite concerts," says Lily Megerian ('21). "She is such an amazing singer with pure talent."
The setlist followed with: "Bad Idea," "Break Up with Your Girlfriend, I'm Bored," "R.E.M," "Be Alright," "Sweetener," "Successful," "Side to Side," "7 Rings," "Breathin," "Needy," "Fake Smile," "Make Up," "Santa Tell Me", "NASA", "The Light Is Coming", "Into You", "Dangerous Woman", "No Tears Left to Cry", and ended with Grande's iconic song, "Thank U, Next."
oh my god. it's times like this i really wish i had better eyesight. well played. love u sm. https://t.co/4Ry7dvU4iT

— Ariana Grande (@ArianaGrande) November 26, 2019
What was so surprising about the concert was its simplicity. While the performance featured various light shows and a large visual projections, Grande stood singing alone for multiple numbers. The star and her microphone with nothing else overshadowing showcased Grande's talent, truly making her complex vocals the highlight of the night. 
"The thing about Ariana Grande is that you can say whatever you want about her music, but I don't think anyone can say that she isn't extremely talented," says Harrell.
The lighting drenched both Grande and her audience in various various shades of blues, reds, purples and pinks. The colorful atmosphere was easy on the eye, however a lack of spotlights and other white lighting provided for poor focal points.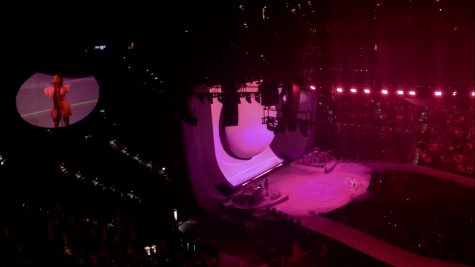 While her incredible vocals, beautiful set design, and shockingly simplistic stage presence combined to create a once in a lifetime performance, the most 'attention grabbing' moment of the concert was her fall during her third song, "Bad Idea." 
Wearing her iconic over-the-knee platform boots with stiletto heels, she took a misstep. Luckily, one of her backup dancers caught her from below. 
The trip was met with mixed reactions. Many in the crowd gasped while others laughed with the pop star. "It was honestly pretty funny," says Harrell. 
SHE FELL ON BEAT I HAVE TEARS pic.twitter.com/CVTxclFcoU

— nora (@diornasa) November 25, 2019
Later that night she addressed her tumble, "Thank you for making me feel loved when I fell earlier," Grande said. "I had to fall. It's been 87 shows and I haven't fallen yet, so it had to happen."
The most extravagant number of the night was Grande's "Santa Tell Me," a Christmas song that was released exactly five years prior, on Nov. 24, 2014. During the performance, Grande reached into the crowd, touching hands and giving hugs while her backup dancers waved candy canes in the air. She and her dancers then tossed gifts to the crowd while a flurry of fake snow fell around them. 
"It was so fun getting to see one of my absolute favorite artists. She was so incredible and I am so thankful I had the chance to go," says Audrey Barnes ('21). 
Watch highlights from Ariana Grande's Sweetener Tour here: