Travis Scott Burger Exposes Celebrity Influence
September 22, 2020
A week after its release, McDonald's new Travis Scott Meal has reached unexpected heights: so successful is the new collaboration between rapper Travis Scott and the fast-food corporation that shortages of key ingredients have occurred in many McDonald's restaurants across the U.S. 
While many may view the collaboration between the rapper and the restaurant chain as fun and harmless, others have been led to question the amount of influence that celebrities have over an entire population of fans and consumers alike — and whether that invisible hand does more harm than expected. 
Though most notably known as a rapper, Travis Scott is an American record-producer, singer, and songwriter. In 2018, Scott rose to international fame after the publication of his album "Astroworld" containing the single "Sicko Mode," the first of his songs to reach number one on the Billboard Hot 100. Alongside writing music, Scott also produces music as the founder of Cactus Jack Records. 
The collaboration between Scott and McDonald's was announced September 3rd, referred to as "Cactus Jack x McDonalds." Aspects of the collaboration include The Travis Scott Meal at McDonalds, which is Scott's favorite McDonald's meal complete with his favorite drink and side sauce, as well as a line of exclusive Cactus Jack x McDonald's merchandise found on the Cactus Jack website. 
With its official debut on September 8, The Travis Scott Meal at McDonald's features a Quarter-Pounder with cheese, bacon, lettuce, and onion. It comes with medium-sized fries on the side with barbecue sauce, and a medium Sprite. The popularity of the meal was severely underestimated by Scott and McDonalds, as many restaurants find the ingredients increasingly scarce as more and more fans pull up to the drive-thru. 
"I'm a super big fan of Travis Scott, so when I heard he was collaborating with McDonald's, my friends and I really wanted to try the new burger," said Ceceilia Williams ('21).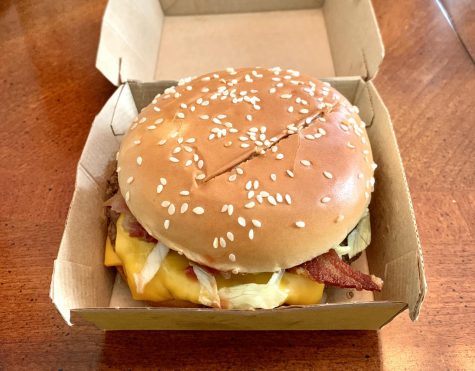 To top off the much-anticipated collaboration, Scott and McDonald's say they are working to find charities, where the proceeds of the collaboration will be directed. "Including a charitable component was key for me," said Scott, "and I can't wait for people to see what we have in store." 
Amid the excitement and the charity of the collaboration between Scott and the franchise, many customers are quick to overlook how unhealthy the meal actually is. Although the McDonald's website only provides the nutrition facts of the burger itself, the entire meal is estimated to contain around 1,175 calories, 34 grams of saturated fat, and 116 grams of sugar. Despite this, some fans of Scott find themselves coming back to McDonald's for more, while others who rarely visit McDonald's at all are drawn to the fast-food chain by the meal's association with Scott. 
"I don't usually get McDonald's, but I would probably get the meal again, even though it made me feel sick," said Cecilia Williams ('21). 
This is not the first time celebrities have collaborated with fast food restaurants. In January, Snoop Dogg collaborated with Dunkin Donuts and created the "Beyond D-O-Double G," a breakfast sandwich with a beyond-meat patty, eggs, and cheese sandwiched by two glazed donuts as buns. The sandwich alone was 530 calories, with a minimum of 26 grams of sugar. 
Ur my hero!!!! Anyway If I can make ur day better makes me happy !!! Imma try to get something up there to u kiddo. ❤️❤️ https://t.co/uBeKERSmdl

— TRAVIS SCOTT (@trvisXX) September 9, 2020
The unexpected success of the Travis Scott meal, as well as Snoop Dogg's breakfast sandwich, have raised concerns about the influence celebrities have over their consumer fans. Fast food is widely regarded as a contributor to obesity, heart disease, high blood pressure, and diabetes: and although it is accepted that fast food is fine in moderation, the celebrity collaboration provides a greater incentive to visit fast food restaurants more frequently.
This impact is more evident when considering the results of other celebrity collaborations between brands: when celebrities work with clothing or perfume brands, the brand's profit increases by 45%. Additionally, 49% of young people say they purchase a collaborative product solely because of the association with the celebrity. 
"Celebrities and the media in general have a huge impact on the choices we make as consumers. There's nothing wrong with treating yourself every once in a while to McDonald's, but it's important to be intentional with your food choices and not over do it," said Health Teacher Ariana Newman. 
With the invisible hand of celebrities playing an undeniable role in consumer decisions, and potentially even the health of the population, it is important for consumers not to lose sight of the bigger issue amidst the excitement of the collaboration. 
got food poisoning from the travis scott meal call that sicko mode

— Chucky ➐ (@chuckyyyyyyyy_) September 12, 2020
"I don't plan on trying the Travis Scott burger. I like to eat super healthy, and since the Travis Scott Meal has a lot of sugar and calories, I'd much rather indulge in something like ice cream that won't leave me feeling as gross," said Laurén Colquett ('21).
With McDonald's dropping sales amid the frenzy of COVID-19, Scott's collaboration with the restaurant was not entirely unsurprising. However, with the fun of the collaboration, it's recommended that fans and consumers remain responsible in their decisions and acknowledge the influence celebrities possess on their economic and health-related decisions before serious damage is done.