Borat and the Comedic Guise of Activism
November 2, 2020
We live in an era of change. American culture is categorized by civil rights activism and political correctness — racist remarks, sexist ideals, and pedophilic intentions do not fly in the way they would have 14 years ago. We live in a changed America; at least, that's what many would think. As it turns out, racism is not gone, sexism not diminished, and pedophilia not a thing of the past as much as many are told. Each vice is not only still present, but prevalent in our "changed" America — and it took the return of a journalist-womanizer from Kazakhstan to prove to America that there's work still to be done. 
Sacha Baron Cohen's character Borat Sagdiyev rose to international fame after the release of "Borat: Cultural Learnings of America for Make Benefit Glorious Nation of Kazakhstan" in 2004. The film is a mockumentary which follows Borat, a Kazakhstani journalist with little to no understanding of American customs, who travels to America to film a documentary. The twist? Cohen is one of three actors in the entire film. Everyone else is informed that Borat is a real reporter recording a real documentary, and the result is unfiltered, unscripted, pure American antics — and it shows.
"While I don't find the humor or premises in Sacha Baron Cohen's films funny, I think it's intriguing how genius he and the other filmmakers are to pull off these 'pranks.' The detail and infrastructure they use to cover their tracks, like getting media passes and disguises, is extremely impressive, and it's crazy what things they can get ordinary people to say," said Latin Teacher Ariana Newman. 
While some reactions to Cohen's stunts are expected, like getting cussed out on a New York subway or thrown out of a ballroom for wrestling another man naked, others not so much. In fact, something about Borat's foreign, oblivious demeanor elicited frat boys to admit that "we need slavery," and a gun shop owner to excitedly guide him towards a weapon best for committing anti-Semitic crimes. All unscripted in a 2004 American society.
Borat is proof of the genius in comedy — under the veil of absurdist, grotesque humor lay raw, authentic snapshots of American culture that amaze and horrify. And 14 years later in a new America, Cohen's "Borat Subsequent Moviefilm" does it again.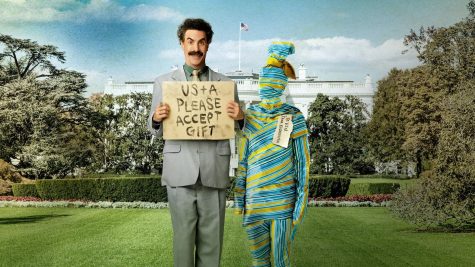 Set and secretly filmed in the era of coronavirus, "Borat Subsequent Moviefilm: Delivery of Prodigious Bribe to American Regime for Make Benefit Once Glorious Nation of Kazakhstan" explores American culture amid political unrest and the pandemic; simply put, Cohen's comedic mockumentary is an exposé of the flawed nature of American patriotism, capitalism, and morality. 
Following the rules of the previous movie, Cohen is one of two actors in "Borat Subsequent Moviefilm." However, with Borat's rise as an international film icon, the character was instantly recognized on the streets. To maintain the inconspicuousness of the first film, the antics of "Subsequent Moviefilm" are conducted by the second actor, Maria Bakalova, who was cast as Borat's daughter Tutar Sagdiyev. 
The plot, if you can call it that, is in accordance with the absurdist Borat fashion: fifteen-year-old Tutar is being offered by the Kazakhstan government as a gift to Vice President Mike Pence, to restore relations between the two nations. To prepare her as a gift, Borat must Americanize her — and in doing so, Cohen exposes the vices of greed and unquestioned prejudice in American society. 
Previous Oscar nominee Sacha Baron Cohen could find himself with up to five Oscar nominations across multiple categories on nomination morning https://t.co/JStfltF1lQ

— Variety (@Variety) November 1, 2020
How so? 
Borat enters a pet store telling the clerk he needs a cage for his daughter, who sells him one without hesitation. Borat then asks how much lighter fluid he would need to purchase to kill twenty minorities, and the clerk encourages him to buy the bigger bottle. Borat enters a dress shop asking where the "no means yes" section is, and is led there by the saleswoman after they share a laugh. Borat asks the baker to write an extremely anti-Semitic message on a cake he will give to Pence. Racism, immorality, all encouraged unprompted and unscripted in the prospect of earning a buck. 
In these situations, Borat, who asks for the cages, the massacres, the hate crimes, is not the enemy — for all anyone knows, he doesn't know any better. The shock comes when he is given all he asks for without question. None ask him to repeat himself, none taken aback. Is it that they lack the energy to correct and inform others? Scared to lose a sale? Or do they simply agree with him? 
"While I haven't seen it, I think the mechanics of this movie is so interesting. It's such a different concept than regular films. It's true that America isn't as changed as many think it is, and it's fascinating to see how much people will say when they think nobody is watching, " said Meredith Nitchals ('21). 
America knows racism is bad, obviously. But Borat proves that we cannot enforce that it's bad. We lack the courage to correct those around us, and even cast away our morals if it gives us an advantage somehow. And it's not like Borat is subtle. If he can get away with the worst, then what else is happening right under our noses? 
I'm watching Borat Subsequent Moviefilm and it lays bare how many white people are totally cool with open casual racism, anti-Semitism, and rape.

And now they're at an anti-abortion crisis pregnancy center!

— Renee Bracey Sherman (@RBraceySherman) October 23, 2020
And racism is just scratching the surface. After Tutar's unibrow is shaven and her hair dyed blonde, Borat presents her at a debutante ball, where he asks the other men "how much do you think my is daughter worth?" One man looks fifteen-year-old Tutar up and down, smiles, and says she's worth five hundred. Then, deciding Tutar needs breast implants to impress Pence, Borat takes her to a plastic surgery consultation, where the surgeon not only encourages the surgery to be performed on the fifteen-year-old, but preys on her, explicitly suggesting things he would do to her if Borat was not in the room. Unscripted. 
But the most controversial scene, which has pitted many against Cohen, involves Rudy Giuliani, former New York City mayor and personal lawyer for Donald Trump, who is seen reaching into his pants after completing a seemingly-legitimate interview alone with Tutar. While Giuliani is adamant that he was fixing his shirt after taking off recording equipment, Cohen believes otherwise. 
"Well, he said that he did nothing inappropriate and, you know, my feeling is, if he sees that as appropriate, then heaven knows what he's intended to do with other women in hotel rooms with a glass of whiskey in his hand," Cohen said on Stephen Colbert's "The Late Show." 
Donald Trump has responded to Borat:

"I don't know what happened. But years ago, you know, he [Sacha Baron Cohen] tried to scam me and I was the only one who said no way.

That's a phony guy and I don't find him funny. To me, he's a creep."

(Source: https://t.co/jTzyGKhfr4) pic.twitter.com/xlC1ISVrcn

— DiscussingFilm (@DiscussingFilm) October 24, 2020
Cohen's opinion on the Trump administration in general has also been made very clear throughout the film, especially when Kazakhstani villagers in Borat's native land beat senseless a person dressed as the president. This, plus the incriminating inclusion of Giuliani's scene, has turned many Trump supporters away from Cohen and the new film. 
But despite Cohen's mockery of America, it's damaging to view this film in a solely political light — doing so takes away from the disgusting, authentic snapshot of the "changed" America we're given. But turning away from the film also proves its main message: America is in denial. 
Borat resonates differently in the age of Trump. Sacha Baron Cohen's outrageous character isn't holding up a twisted mirror to society anymore—he's just holding up a camera, @davidlsims writes of the new sequel "Borat Subsequent Moviefilm": https://t.co/vDSu0F87tK

— The Atlantic (@TheAtlantic) October 24, 2020
"It's important to recognize that there are pedophiles, sexists, and racist people in America. We can't pretend they don't exist. But there are also people who are fighting for change. Baron Cohen depicts our country as a disgusting place, and that's why there are so many fighting today to make things right through protests, petitions, and boycotts," said Crista Guevara ('23). 
Cohen found over an hour's worth of racist, sexist, and pedophilic content for his film in less than six months, with five of which amid the coronavirus lockdowns. Yes, America is different from what it was fourteen years ago, but we can't pretend the imperfections don't exist. If we want to see a true, changed America, we must participate in the fight any way we can — even if it means dressing up as a Kazakhstani journalist.