Madness and magic of Harry Potter's Wizarding World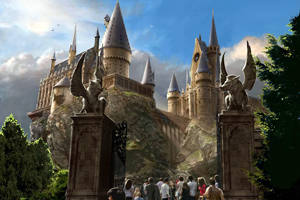 When you walk through the gates into Universal's newest attraction, the Wizarding World of Harry Potter, it's as if you are under a spell. This is the theme park that Potter fans dreamt up years ago as they dutifully read all seven books in J.K. Rowling's saga.
Academy junior Madison Kenney says that Harry Potter world was an emotional experience. "I kept running around screaming, 'Look at this! Look at this!'"
The 20-acre lot can indeed be overwhelming. The cobblestone alleys are chock full of stores and restaurants straight from the books. Olivander's Wand Shop stands ready to match each "witch" and "wizard" with its destined wand. Tourists can drink butterbeer or pumpkin juice as they wait to enter Three Broomsticks or Honeyduke's candy store.
Waiting, in fact, fills much of the visitor's day. By the park's opening time of 9 a.m., New York Times writers Brooks Barnes and Catherine Skipp state  that on opening day, June 18, the wait merely to enter the park was six hours long. In an attempt to skip the long lines, people can stay at a Universal hotel the night before and in return receive a one-hour earlier entrance time.  Academy senior Paige Schaefer affirms that "staying on Universal property is definitely a plus."
It pays to stay at a Universal hotel in more ways than one.  Barnes and  Skipp say that Universal expects Harry Potter World will raise their annual attendance by at least 10 percent. This rise in attendance, along with hotel stays and sold merchandise, is sure to take Universal out of its financial slump.
Fans pay through the nose to experience the magic of Hogwarts, and they are more than happy to do so. Even those who have not read the book, like parent Rick Costello, are extremely impressed.  "From Dumbledore's office to the mandrakes, everything looked exactly like it was portrayed in the movies," says Costello, "the only thing that made it different was the tourists."
The attraction cures even the most severe case of what New York Times writer Neil Genzingler "post-Potter depression."  Since there are no longer books to anticipate, this is the closest die-hard fans can get to re-experiencing the magic.
The majority of these fans applaud Universal. However, there was one suggestion that Kenney, Schaefer, and  Costello all have. They would like to make the park bigger.