Spring forward into new, bright trends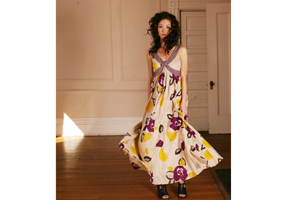 This is the season of rebirth and it couldn't be more evident than the grab bag of style available to choose from. We no longer live in a fashion world where designers get to dictate which style will dominate.
At most, designer runways offer tasteful suggestions and alternatives, but they are no longer mandates. Shoppers, ultimately, pick and choose from the styles that are most persuasive, refreshing and appropriate for them … as it should be.
If you're wondering what trends are getting the most buzz this season, we've rounded up the top 10.
1. Bright, bold colors in tops and dresses.
2. Upscale safari-inspired items, including jackets, shirt dresses and city cargo shorts.
3. Seventies silhouettes in long fluid items, including relaxed jersey dresses and wide-legged denim.
4. Eclectic bohemian prints, preferably mix-matched.
5. Smaller handbags, look for a trend toward smaller cross body bags and totes.
6. Bangles and bracelets, now that chunky necklaces are taking a backseat this season.
7. Sheer tops and gauzy skirts with hints of girly peek-a-boo.
8. Flatforms (like a platform but without the incline) and wedges, the new shoe heights are surprisingly sensible.
9. Knee-length and maxi dresses, both lady-like and prairie-friendly.
10. Bold color-blocking and traditional nautical stripes, two more ways to wrap yourself in more color.
———
(c) 2011, St. Louis Post-Dispatch.
Visit the Post-Dispatch on the World Wide Web at http://www.stltoday.com/.
Distributed by McClatchy-Tribune Information Services.