Congressman Jim Davis encourages student activism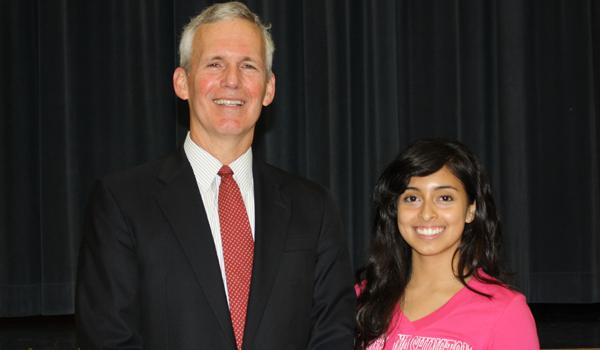 Congressman Jim Davis, Florida's former House of Representative for the 11th District, recently visited the Academy to speak about his influential career in government and politics. Mrs. Micky Stagg, American Government teacher, invited seniors to attend this interesting session in order to understand better the responsibilities and challenges of life as a United States Congressman.
Born and raised in Tampa, Congressman Davis became interested in politics while studying at Jesuit High School after hearing his grandfather's unique experience and involvement in the Civil Rights movement. Davis decided to dedicate his life to civic engagement in order to help others equally, similarly like his grandfather. Originally beginning his career as an attorney in Tampa, Davis became genuinely intrigued with politics that he decided to run for the Florida House of Representative, a task that was far from easy.
"You have to really, really, really want it because you have to work like there is no tomorrow," recountedmCongressman Davis about the tenacity needed to run a good campaign.
During his time at the Florida House of Representative, from 1989- 1996, Davis worked steadily as an advocate for education, as well as other pivotal issues. His continuous effort led him to hold the distinct and privileged honor of serving as House Majority Leader from 1995-1996.
Interested in serving at the national level, Representative Davis decided to throw his hat in the ring during the U.S. House of Representatives elections. In 1997, Davis became Florida representative for the 11th district and served for the following 10 years.
Congressman Davis told the seniors, "I realized the importance of my job when I was invited to a meeting at the White House with President Bill Clinton and Vice President Al Gore and asked about my opinion on an issue."
As Congressman for 10 years, Davis took part in many significant issues. After 9/11, Davis was chosen to fly to Saudi Arabia to meet with Saudi leaders on behalf U.S. concerns in the aftermath of this national tragedy, as well as countries could prevent similar threats to countries throughout the world.
Although Davis said his first priority was to represent the opinions of his constituency, he said sometimes he had to act on what he believed was best for those he represented. For instance, during the Terri Schiavo case, Davis decided to cast his ballot in the US House on what he believed was right. " "Sometimes an elected official cannot please both the citizens and satisfy his own personal beliefs , but in most cases, this balance can be achieved."
"If you are running for the right reasons, you have some sense of what you want to do, " said Davis. "One of the excited things about politics is that it is a constant learning experience. We have a diverse community, a diverse state, and a diverse country. It really is a two way streak between the people and representatives to get the job done."
Since leaving office in 2007, Congressman Davis has returned to Tampa and continues to advocate for his political passions. In 2006, Congressman Davis became the Democratic candidate for Florida's governor, but was defeated by Republican candidate Charlie Christ. Recently, he became a speaker for Moving Hillsborough Program, an organization that advertises the need for a new mass transit system, with Mayor Pam Iorio.
Although there were rumors about Davis potentially running for mayor in 2011, he exclusively told the seniors the reason he chose not to run was because his wife "would not vote for me." When asked what issues face first if he were running for mayor of Tampa, he responded, "I think the economy in Tampa is really tough right now, so I would find a way to improve our economy and find a way to make our community more attractive so that our best and brightest would want to come back to Tampa. Also, I would try to find ways to improve the quality of jobs and help them survive."
Even though Congressman Davis is no longer on the campaign trail, he continues to promote the importance of young people to becoming politically active. "I think students have tremendous ability to have influence; it only takes one person to get people inspired."
Furthermore, the Congressman recounted how without the drive and passion within young students in Egypt and Tunisia, reform in these two countries would not be taking place today.
Congressman Davis advises students to pick a candidate they believe in, become involved within their campaign, and encourage other students. "That is the way they can become not only informative voters, but also active participants in the future."