Silver Coffee begins graduation tradition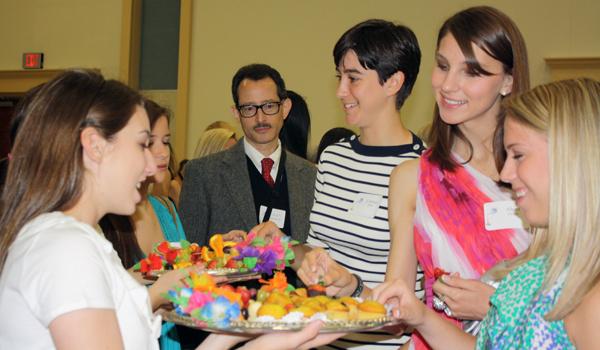 As it does every year, the annual Silver Coffee opened this year's graduation festivities for the Class of 2011. Held in the beautifully transformed Brady Center on the morning of May 12, the event hosted the soon-to-be graduates, along with their mothers, while also welcoming back Academy alumnae from past years. The seventy-six seniors, many clad in brightly colored and floral-patterned dresses, sipped coffee and punch while nibbling on tea sandwiches, cookies, and quiche. Girls posed for photos with their classmates, wishing to remember moments like these for years to come.
After an hour of socializing, the group traversed to the main staircase for the traditional Rose Ceremony. Each graduate descended the staircase one-by-one, receiving a pink rose at the bottom, then ascended the other half to wait for her classmates. Onlookers breathed a sigh of relief when Meredith Zingale reached the bottom without the slightest stumble; a fear of tripping down the stairs was in the back of everyone's mind.
The day's events came to a close with the focalpoint event, the Alumnae Induction ceremony, in which the Class of 2011 officially entered the Holy Names Alumni Association. HNAA President Stephanie Agliano, an Academy graduate of 1977, welcomed the group after they entered the Chapel, and Sister Mary Patricia Plumb, also an Academy alumna, opened the ceremony with prayer.  Mrs. Jill Hutcheson Shepard, mother of senior Sarah Shepard and AHN graduate of 1974, read the Scripture reading, followed by a few words by recent alumna Ms. Kelley Mulfinger, Class of 2003, on what an AHN education means.
The induction process then began as Ms. Agliano read the names of each member of the senior class, who then signed the alumni records book, thus becoming an official alumna of the school. The ceremony came to a close as the senior members of the Quarter Notes sang the Alma Mater, joined by their classmates and the Academy alumnae present, and the Class of 2011 processed out of the Chapel after a momentous and traditional beginning to Graduation Week.