Benjamin Franklin plays the part in his visit to Academy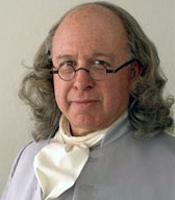 On Monday, October 17, Benjamin Franklin  entertained and informed Academy students K-12 with his wit and knowledge of American history.  Speaking for over an hour to a packed Brady Center, Franklin shared little known trivia about himself, along with important information about the struggle for American independence and his involvement in diplomancy abroad. 
The real Ben Franklin? Well, an interpretation of Ben Franklin in the person of Chris Lowell, a Ben Franklin impersonator. This visit, organized by Mrs. Lori Kearney, Social Studies Department Chair, will include visits not only to social studies classes but also to AP French and Religion classes.
Mrs. Kearney watched Chris Lowell's performance clips online and "was just blown away." What really hooked Mrs. Kearney on inviting to Academy was the tone Lowell set.  "He really projected this American feeling. I just knew we had to have him come to our school."
Lowell will first speak to grades 7- 12 in the Brady Center. Afterwards he will speak to sophomores about becoming a person of faith versus a person of science. Third and fourth grade will have the opportunity to see Ben's favorite experiments. First and second graders will hear about  Ben Franklin's life. Fifth and sixth graders will hear Franklin's views on faith and service. To wrap up the day, Ben will visit Kindergarten just to say hello.
Lowell has been a teacher and actor for over 50 years. After graduating from Dickinson College with a double major in theater and French, he earned his M.A. in 18th century French literature at Colgate University. His experience as an actor and director has taken him, like the character he plays, to both Philadelphia and France.  Lowell  taught and acted in Philadelphia for six years. In France, he taught in Brittany, the region where the original Franklin first touched French soil in December 1776.
For 28 years, Lowell taught both French and drama at the Fountain Valley School. During those years he divided his leisure time among trips to France, directing plays and acting in over 25 major productions. Then, for six years he taught theater at the University of Colorado at Colorado Springs. Now retired from university teaching, Lowell uses his energy and enthusiasm to bring the extraordinary life and accomplishments of Ben Franklin to audiences across the country.
In examining Benjamin Franklin's life, Mrs. Kearney favored the idea of this visit.  "I like Ben Franklin because he had humble beginnings. He was not just a statesman, but a scientist and an ambassador."
Mrs. Kearney's goals for Lowell's day-long visit is that students "will walk away with a better understanding of how important Benjamin Franklin was to the formation of the United States."