Dealing with Diabetes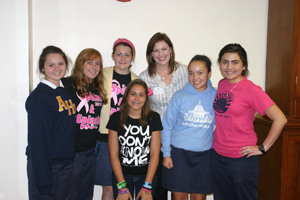 Insulin, blood sugar levels, daily shots, glucose – words that are part of the everyday vocabulary of senior Ciara Alvarez's ever since she was diagnosed with Type I diabetes as a child.
According to the American Diabetes Association, people who are diagnosed with Type I diabetes lack insulin, a hormone needed to convert food including sugar into energy used everyday. Fortunately, with the help of an insulin pump, people with Type I diabetes have the opportunity to live a fairly healthy and normal life. With the help of her (pink) insulin pump, Ciara eats whatever she wants including sweets which can be difficult to avoid especially at Academy. "I really just try to maintain the same normal diet as anyone that wants to be healthy has," she said.
Something about Alvarezwas not right. At four years old, she often became sick, was frequently using the bathroom, constantly thirsty, and losing weight. After being brought to the doctor, the only answer the Alvarez family received was that she was normal with nothing wrong. The unusual symptoms only grew worse, and after the second visit to the doctor, Alvarez was hospitalized with Type I diabetes.
The typical healthy childhood is usually filled with a large amount of sugar, sweets, and candies, but for Alvarez, her diabetes set her apart from the other children. "When other kids could just eat sweets or other snacks whenever they wanted, I couldn't at all. My blood sugars affected how I felt during the day, especially if they weren't consistent. I would have ups and downs that sometimes would prevent me from fully participating in certain activities," Alvarez explained.
In addition to watching what she ate, she also had to undergo one of the greatest fears of children: shots. "I had to start taking shots and testing my blood sugars every day."
Thirteen years later at seventeen-years-old, Alvarez now uses an insulin pump which to her has been a "lifesaver." "I can eat whatever I want whenever I want, and my blood sugars are completely regulated," Alvarez happily points out. Although her insulin pump allows her to have a normal diet, she still continues to try to live a healthy lifestyle by exercising and eating healthy.
Diabetes has not only affected Alvarez's life physically but also serves as something positive in her life. Her disease has made her extremely responsible, and also has given her an insight on her future. "I plan on becoming a pediatric endocrinologist, which is a doctor who works with kids that have diabetes. I have wanted to do this for so long now because it is something that I am very passionate about. I love learning about diabetes and the new medical advances with it."
To Alvarez, her diabetes is not a burden, but an obstacle in her life that she has learned to deal with. "I have never let my disease stop me from doing anything that I want. I live my life how I want and diabetes is something I just have. It's part of my life, so I handle it like anything else."