The saga of the undecideds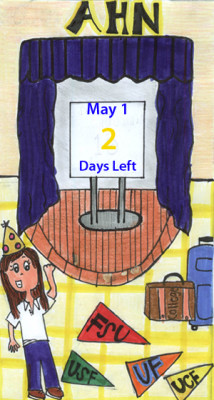 As the last days for seniors dwindle down, many girls are starting to unwind and relax, afflicted with the inevitable senioritis. They have already chosen their college, paid their deposit, and found their roommate for next year, so they are ready for school to be over.
There are, however, a select few whose futures still remain cloudy. These are the undecideds. For these students, the days leading up to May 1 will be nerve-wracking, stressful, and filled with one, all-consuming thought: Where will I go to college?
The Class of 2012 currently has four undecided girls. Each of them is torn between two schools but must make a decision within a week. For them, the stress of admission is over with their acceptances, but the real task lies in selecting their home for the next four years.
For a few, the decision process included visits to the schools during the period between April 1 – the day on which most girls find out admissions results from colleges – and May 1 –  the national decision day.  This year, many girls took their final tours over Spring Break to help them make the big decision. Still others elected to weigh the financial costs for both schools and choose the most affordable option.
Though these last days are full of worry and anxiety for the small undecided group, they should be assured that whatever they decide, they will make the most of the opportunities their college choice will provide.