Quarter Notes audition will attract new Academy talent
Do you love to sing and dance? Make sure you attend the Academy of the Holy Names' Quarter Notes Show Choir auditions on Monday, May 14. Auditions will be held from 4 to 6 pm in room E-104.  Students who wish to make the choir should come prepared to sing 16 measures of any song of your choice.
The Quarter Notes meet outside of school and counts as a Fine Arts credit, which is required for graduation. Rehearsals are on Mondays from 3:45 to 5:15 pm and on Tuesdays and Thursdays from 7:00 to 7:45 am. The group is led by Ms. Linda Ruescher, who can be contacted at [email protected] for more information.
Ms. Ruescher said she is excited about developing new talent but wants to ensure that practice schedules fit Academy busy lives. "In order to relieve some of the burden of outside rehearsals, we often have sectionals where only a part of the group is required to attend. The Monday rotation is one week with sopranos alone, the next week with altos alone,and the third week with everyone. Tuesday mornings are for sopranos, and Thursday mornings are for altos. When we approach a performance, the entire group attends all rehearsals."
The Quarter Notes perform at a variety of events from the Medieval Madrigal Dinner and evening Taize prayer services. The group performs popular music along with sacred, contemplative music.
Performances for the 2012-2013 School Year include:
Alumni Dinner
Blessed Marie Rose Dinner
Taize Evening Prayer for Advent
Pops Christmas Concert – Faith Children's Home
Pops Christmas Concert – High School
Twelfth Night Madrigal Dinner
Taize Evening Prayer for Lent
Disney Show Choir Intensive
Taize Evening Prayer for Eastertide
Pops Concert at Arts Fest
Baccalaureate Mass
About the Writer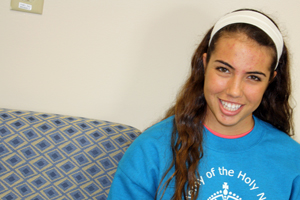 Alexandra Diaz, Multimedia Club
Alexandra Diaz is not only a captain of the swim team, but also an active member of the Teen Leadership Council. Alexandra is a master phtographer and...