Americans love to celebrate St. Patrick's Day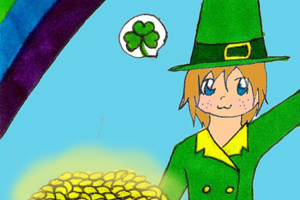 Whether they are Irish or not,  Americans will not be able to escape the wearing of the green this weekend.
Greeting cards with green shamrocks line the aisles at your favorite stores right next to Easter cards on display.
Here at Academy, bake sales featured green shamrock cookies and other festive treats during the week before Mini-Course Week.
Every year cities like New York, Chicago, and Savannah, Georgia, play host to tourists and residents who celebrate the feast day of the patron saint of Ireland.  Chicago dyes its river of the same name green.  Savannah hosts the second oldest parade in the world, celebrating its 189th year.  New York holds the honor of being the oldest and largest parade in the world.  This year three million spectators will line the streets to cheer on 150,000 parade participants.
Although the official feast day of St. Patrick is March 17,  most parades will be held this year on Saturday, March 16.

Loading ...