Dominican Republic missionaries bring hope with a smile and Jolly Ranchers
Gini Barreda, Section and Special Features Editor
April 10, 2013
Walking through the dirt roads in the central square of La Victoria, Dominican Republic, first-time missionary Rachel Astoriquiza reached into her pocket, pulling out a Jolly Rancher, and placing it in the hands of a small boy no more than two years old.
Astoriquiza, a rising senior at AHN, explained the type of impact her first DR trip had on her.  "It was incredible to develop relationships with the people of La Victoria and to share in their joy and simplicity. "
Like all AHN mission trips, the DR took many months of preparation before-hand in order to be successful throughout the week. Missionaries, new and old, ran dozens of shoe drives in their parish, arranged different fundraisers to support the trip and, on occasion, arrived at AHN early for the Spiritual preparations.
Finally, the day of departure came. With only a small backpack for their belongings and a passport in their hands, and missionaries were ready for take off from Tampa International Airport.
Missionaries resided in El Santuario Shoenstatt for the week with a group of enchanting Sisters. Every morning began with a Mass in Spanish and the small chapel within the Sanctuary grounds followed by a delicious breakfast consisting of pan tostado (toasted bread), cereal and eggs. The group was exposed to new foods during their stay in Shoenstatt such as arroz con pollo (chicken and rice), fried yuca, and platanos maduros (plaintains).
The week's activities consisted of shoe sorting and distribution in schools, family visits, painting, gardening, visits to the orphanage, and playing with the children of the Nutrition Center.
Junior Lauren Ayers shared her favorite activity throughout her visit. "I enjoyed visiting the families because I was able to be in their shoes and understand what their life is like. This allowed me to build better connections with the people."
However, building relationships with the people of La Victoria was not the only thing that the AHN missionaries gained from the experience. The girls left with new friendships and a new appreciation for their fellow schoolmates and for what they had back at home.
Senior Amanda Bell has developed a deep bond with the people of LaVictoria, one that she will not give up.   "Going back to the Dominican Republic for a second year was an incredible experience. Not only was I reunited with individuals who touched my life last year, but I also met countless others. It helped me see things in a new light, and it really felt like friends and family rather than 'the less fortunate.' I will definitely continue to go back, hopefully as an alumna in the next few years."
As a Dominican Republic mission trip leader for 14 years, Mrs. Rebeca Zambrano continues to find meaning through the eyes of her missionaries. "My goal for every mission trip to Dominican is for it to be a mission within a mission. That we get the work done in an effective and loving way. But, it is also important that our girls experience a life of simplicity and frugality and grow in wisdom, empathy and a desire to serve others. Both missions were fully accomplished during the 2013 DR trip."
About the Writer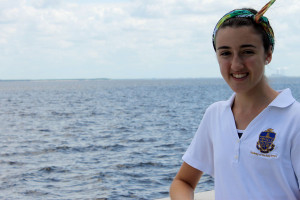 Gini Barreda, Features Editor
Although her strengths lie in writing and editing stories for Achona, she also specializes in Storify and photography. Gini is currently President of the...