Academy welcomes new English teacher, Laura Frazier
This year the senior class welcomes a new English teacher. Mrs. Laura Frazier arrived at the Academy of the Holy Names this fall, ready to begin the challenge of helping seniors write their college admission essays and experience the joy that comes from belonging to the Academy family.
Mrs. Frazier herself is a Tampa native. She attended Christ the King for elementary and middle school and then Plant High School. She left Florida to attend Wake Forest University, an experience she believes allowed her to branch out and experience a different setting than what she was used to. After college she returned to her home state, and attended University of Florida graduate school.
Her desire to teach English, however, began at a much earlier age.
"When I was in seventh grade I loved my English teacher and she made me want to become a teacher one day. Then, when I was a junior in high school I loved my AP language class and I though that's what I want to do. I want to teach high school English."
So far she enjoys teaching at the Academy and is a fan of the new block schedule. She finds the environment to be very positive and welcoming.
However, Academy is not the first single-gender Catholic school she has taught at. She is a former Jesuit High School English teacher. When asked about the difference between teaching boys and teaching girls she responded, "It's different but the same. Girls tend to be a little more hard-working and motivated day in and day out than my boys were, but overall I think you guys are the same."
She hopes to endow her student with a sense of preparedness and the ability to apply their knowledge.
"I want them to be prepared for college. I want them to be able to write at the collegiate level, to be able to look at any piece of writing and extrapolate the essential details from it."
Mrs. Frazier's skills and dedication are a valued new addition to our school.  Her love of English and her passion for teaching are sure to benefit all of her students and provide them with the skills necessary to work at a collegiate level.
Leave a Comment
About the Contributor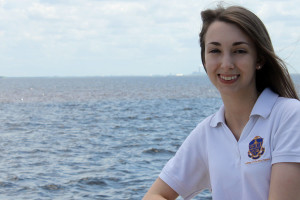 Madison Anthony, Senior Staff Writer
Madison Anthony is a staff writer for Achona. Her hobbies include reading literature, baking, and jogging. In her free time you can most likely find her...