Remi Storch: Courageously survived Childhood Cancer
As many might not know, September is National Childhood Cancer Awareness month. Thanks to improvements in medicine , the cure rate for childhood cancer has increased 60% in the past 40 years. Sadly, many children do develop cancer, but it is those who use their experience to help benefit others lives that stand out. One of our own sisters has done just that, and she has won the battle against this terrible disease. Achona got the chance to speak with Sophomore , Remi Storch, on how cancer has affected her life.
HH: What type of cancer did you have?
RS: Rhabdomyosarcoma
HH: How old were you when you found out?
RS: 7
HH: How long did you battle cancer?
RS: All of second grade. I was diagnosed in September, it took a year to end.
HH: How did you use the experience in a positive way?
RS: My family grew closer to God. We always went to healing services. That helped them get through it. I met a lot of kids that went through the same thing. I loved hanging out with them. This all helped us stay close as family.
HH: Has it changed your outlook on life?
RS: During the process I was too young to understand everything. But now that I am older, I understand more. This has taught me to opens my eyes and live life to the fullest. During this time we did a spontaneous things as a family. We lived her life like the next day it was going to be over. We took trips to disney and our beach place. There we would go on the boat and cruise around.
HH: Do you participate in any cancer societies?
RS: I am a spokesperson for the Pediatric Cancer Foundation. Sometimes I also speak behalf of them for Tires Plus. I am close with the executives there and sometimes they will come over to the house. I give speeches and volunteer for events, mostly at local places. I have walked in Fashions Funds the Cure since I was diagnosed. Since it was bigger, this year it was in an airplane hanger this year. Usually it is at Neiman Marcus or Saks!
HH: Did you meet any other kids with cancer?
RS: One of best friends Camille, who was a few years older. We really clicked. She passed away in fourth or fifth grade because she relapsed (she was cured but passed away). That was hard for me but I met other people. Today some are alive but others have passed.
HH: Do you have any siblings? How was your relationship affected by this?
RS: Yes, Chloe. (Chloe is currently a Senior at AHN) My relationship with chloe grew because she was really affected by it and she realized that she had to spend more time with us because at the time we did not know the severity of the situation. I remember she would bring a sleeping bag to the hospital and always surround me. It was hard to hang out with people other than my family because during the chemo I had a high risk of infection. (When people are going through chemo, they cannot be around germs).
On the inside and out, Remi is such a beautiful girl. By talking with her, anyone can clearly see how Remi exudes confidence and only let cancer make her stronger. Remi has a great reputation for being one of the most kind and caring young ladies at this school. Even during this 7:30 am interview, Remi waltzed in with a smile on her face immediately sharing her positive energy. In every way, Remi has used this experience for the better and has proven to be a great spokesperson for childhood cancer.
Leave a Comment
About the Contributor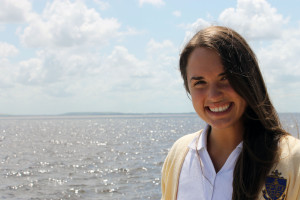 Hannah Hancock, Senior Staff Writer
Hannah Hancock has attended the Academy of the Holy Names for four years. She enjoys dancing, wakeboarding, cheerleading, tanning, and shopping. Hannah...