New history teacher lectures in the classrooms and spikes on the court
The new history teacher, Ms. Stacy Filocco, hopes to bring a new edge to the Academy. Not only does she hope students thrive in her Government and U.S. History classes, but also find new ways of contributing to the community.
"I would love to help them develop an understanding of ways they can contribute to the community beyond regular community service."
Ms. Filocco also brought a gift from her hometown of Washington D.C. all the way down to Tampa: her passion for volleyball. Not only did she participate in the sport throughout her childhood and high school, but she played at Tufts University. She attended the prestigious college for both her graduate and masters degree. Currently, Ms. Filocco shares her skill through the Academy sports program by coaching middle school varsity volleyball. She loves the team so far.
Even though "the iPad is not the primary learning tool" for her class, Ms. Filocco "likes using it as a resource." After stating that she "loves the new technology," Ms. Filocco made it clear that although she is new to it, she still enjoys it. Many other schools are not yet up to date with Academy's up-and-coming technology, including the public school where she used to teach.
After being asked how the co-ed and all girls school environments differ, Ms. Filocco gave a surprising response. "They are not that different, because my classes at the public school were mostly girls. All the positive aspects of the all girl environment were also at the public school."
The idea of an all-girls Catholic school enticed the new history teacher. She attended a co-ed Catholic high school and loved the experience. Another aspect she loves about Academy is the staff. "I am very impressed with how helpful and welcoming the teachers and faculty are." While fitting right in with the faculty, the students from all grades have also given Ms. Filocco rave reviews. Warm welcome from the girls of the Academy, Ms. Filocco!
Leave a Comment
About the Contributor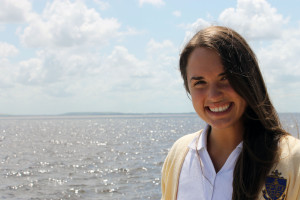 Hannah Hancock, Senior Staff Writer
Hannah Hancock has attended the Academy of the Holy Names for four years. She enjoys dancing, wakeboarding, cheerleading, tanning, and shopping. Hannah...