Up close and personal with Emily Rodriguez
Academy of the Holy Names is filled with unique students who thrive in academics, creativity, and passion. To help celebrate our many talented students, Achona will be doing student features enabling readers to get know their Academy sisters better. This week's student feature is senior, Emily Rodriguez.
So what makes Emily this week's student feature? Well, she was just named a National Merit Semifinalist and has a starring role in the upcoming Masque production, Noises Off,  this fall. When we told Emily she was this week's student feature she happily responded, "I'm glad you find me interesting."
Moving from Indiana to Tampa in her freshman year, the first high school she attended left her wanting a more challenging curriculum, which she found at Academy. Emily came to the Academy of the Holy Names her sophomore year and instantly fell in love with it.
Not only has Emily demonstrated excellent academic achievement, but success in her passions as well. Since 7th grade, Emily has competed with the National Forensics League (NFL) matches across the nation. At the Junior NFL Nationals, she was a quarter finalist for humour and a semifinalist in duo competition. Not only that, but Emily was also a qualifier at the Catholic NFL Nationals and at the NFL Nationals.
Performing in front of people is something Emily finds enjoyable and spends a majority of her time doing. In addition to NFL, Emily has been an actor in multiple productions. Participating in The Acting Studio, Emily has starred in productions of Chicago, Putnam County Spelling Bee and Into the Woods. For Jesuit Masque, Emily has starred in Clue, The Curious Savage, and Beetlejuice.
Emily said she loves acting because of the possibilities of creativity."It's nice when you're having a bad day; you can be someone else for a while."
Most recently, Emily has been cast in the Masque Production of Noises Off, in which she stars as Dotty.
In addition to her performance hobbies, Emily has also danced in a Flamenco Club, ran on cross country, written pieces for Achona and Excursions, and made it to States for Poetry Out Loud.
Emily even plays the bassoon, showing off her talent as the second chair bassoonist in the Wesley Chapel Symphonic Orchestra.
When Emily is not busy doing the many things that fill her schedule, she loves to relax and curl up with a good book, such as Les Miserables or Life of Pi, and watch her favorite shows.
"When I get stressed, I tend to watch Anime or read a good book."
If you see Emily Rodriguez in the halls fell free to chat with her and catch up with this week's student feature. You can also find her and other Academy students in action at the Masque production, Noises Off, on November 14.
Be sure to check back at Achona for the scoop on the other Merit Scholars.
View Comments (2)
About the Contributor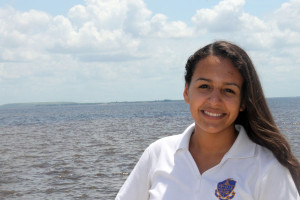 Mikela Mollanazar, Multimedia Editor
Mikela Mollanazar has been on staff for three years now, and her current position is Multimedia Editior. She enjoys spending her time creatively, either...