Katelyn Prieboy is Really Cool
Most Academy girls jump at the chance to meet pop stars and celebrities like Taylor Swift just once in their life. If that's a point on a bucket list, senior Kateyln Prieboy can cross it off — six times!
We all know that senior, Katelyn Prieboy, has a sweet disposition and is musically talented (she plays guitar and piano) but what most don't know is that she's spent time with some pretty interesting people. From just going to a few concerts to interviewing country singers, Katelyn has had a few interesting experiences.
Achona: How would define your interests?
Katelyn: "First and foremost, I'm a fan. My first country music concert was in 2007. It was Brad Paisley with Taylor Swift as one of the opening acts. After that, I was hooked. My parents and I went to so many concerts and events that we had a ton of pictures. As we started going to more and more shows, we would join fan clubs and get pretty decent seats. In 2012, I wanted to find a way to share those pictures. So I started a photography site – Low Lite Photography – and started sharing those photos with a country music site in the UK. Since then, I've started writing for them, too, as well as helping to manage their social media pages."
A: How often do you attend concerts?
K: "Whenever an artist we really love comes to town. It's funny because country music acts seem to tour in the summer, so a lot of shows end up being during that time frame. It probably looks like I go to more shows than I actually do, though!"
A: How often do you meet an artist?
K: "Honestly, not that often. My mom and I have attended CMA Fest in Nashville since 2008 and that's where you have the opportunity to meet a large number of the artists. You used to be able to stand in line — or camp out over night if you were that crazy — to get a ticket to meet the artists. Most of the artists would have fan club parties, too, where most of the time they met those who bought a ticket. Other than that, you can enter for meet and greets through the artists' fan clubs. That comes down more to luck than to dedication, though."
A: How many times have you met Taylor Swift?
K: "Five or six times. I've loved Taylor since 2006, so we had the opportunity to meet her when she was more accessible. Now she's so popular. A lot of people have these notions of how she is in person, but she's probably one of the sweetest and most genuine people you'll ever meet."
A: Is photography what you want to do in the future?
K: "Not specifically. I play music, so I hope that's where God's plan leads but I don't really have any expectations. If it's a career that involves county music in general, I'll be happy!"
A: How did you get your job with the site in the UK?
K: "There was a gentleman we met a couple years back in Nashville who ran a website about country music here in the States. I was curious as to how to get involved in something like that so he recommended looking at sites in the UK. Country music in the UK isn't as big as it is over here, though it's growing rapidly, so it would make sense that a site over there might want someone in the US to give the "US country music fan" perspective. I sent off an email and after some back and forth, I joined the team."
A: What's the most recent thing you've done?
K: "About two weeks ago, I had the opportunity to attend Garth Brooks' press conference in Jacksonville, where I also had the chance to interview him. It was incredibly surreal. Garth is why I love music so getting that opportunity was amazing. To say I'm thankful and blessed, is an understatement."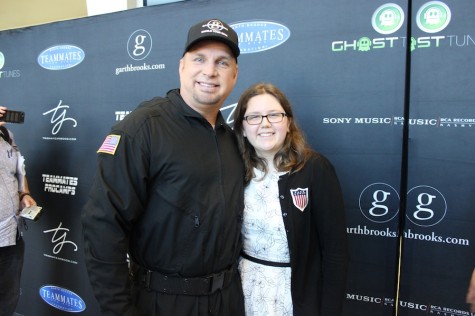 A: What's your most memorable experience?
K: "It's impossible to pick one. It would have to be between meeting Taylor Swift for the very first time – I was 10 and was convinced that, as I recall telling my parents, "I can die happy now!" – or meeting Garth Brooks. He called me "Miss Katelyn". That enough is memorable in my book!"
A: What advice can you give a girl who wants to do something similar?
K: "Find something you love to do, pursue it, ask a lot of questions and make connections. The worst someone can tell you is no."
By the way…Katelyn has also met Mr. Mitt Romney.