Tampa Treasures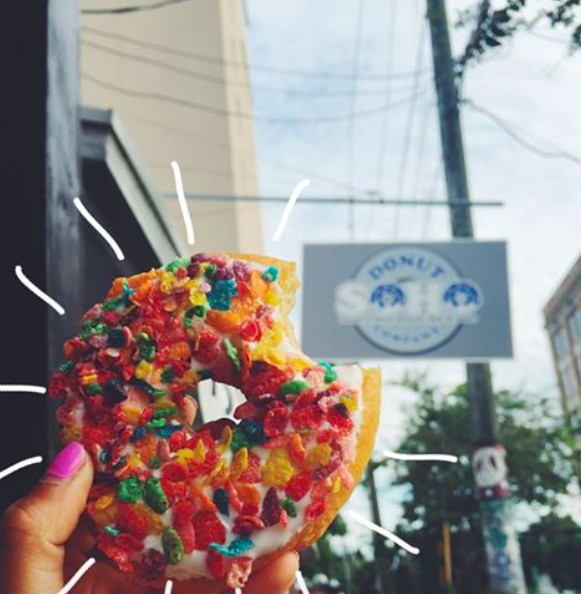 Find the treasures and get a view to match; this basically sums up Tampa Bay. Cultural gems mingle with authentic history to create an atmosphere that inspires awe and adventure.Whether your quest is for art, fashion, fitness, or what all Academy girls want…food, treats, and imaginative and inspiring thrills await around every corner.  
 Coffee, Treats, and Teas
SOHO Donuts//

117 South Hyde Park Avenue, Tampa, FL 33606

Mr. Penguin//

1920 W Platt St, Tampa, FL 33606

Dairy Joy//

3813 S Manhattan Ave, Tampa, FL 33629

buddy brew coffee//

2020 W Kennedy Blvd, Tampa, FL 33606

DI Coffee Bar//214 E Davis Blvd, Tampa, FL 33606
Oxford Exchange//420 W Kennedy Blvd, Tampa, FL 33606
Speaking on behalf of all AHN girls, coffee, treats, and teas are basically a necessity. After a stressful week, or getting a good grade on an assignment you worked really hard on, you deserve to treat yourself; and these are the perfect places to do so. Senior Grayson Garraty enthusiastically shared,  "SOHO Donuts is my new obsession, every opportunity I get, I go. If like to treat myself usually on Sundays to mark the end of a stressful week and the beginning of a new one." If you are sick of  basic white girl coffee at Starbucks and are trying to find new coffee shops, the ones above are great alternatives. I go to Buddy Brew Coffee at least twice a week and the fact that there are three locations that are 10 minutes from my house in different directions is a little dangerous. Senior Mollie Johnson shares, "Living on Davis Island and trying to go to the Bay to Bay or Henderson Starbucks is such a hassle to get to and it is out of the way, so stopping at DI Coffee Bar is always my first choice." If you are more of a tea person, Oxford Exchange's tea bar is definitely a great option; from hot to cold teas, they have it all.
For all my AHN foodies
If you love food continue reading…that should be everyone.
 

Fresh Kitchen//1

350 S Howard Ave, Tampa, FL 33606
Fruitwood//

203 W Swann Ave, Tampa, FL 33606
Oxford Exchange//

420 W Kennedy Blvd, Tampa, FL 33606
Daily Eats//

901 S Howard Ave, Tampa, FL 33606
Bar Taco//

1601 W Snow Ave, Tampa, FL 33606
BurgerFi//714 S Howard Ave, Tampa, FL 33606
          These are just some of the few amazing and affordable restaurants in the Bay. I go to some of these religiously for different reason: Fresh Kitchen when I feel like having noodles, quinoa, vegetables, and chicken all at once, Fruitwood when I'm feeling beachy, Oxford for when I want to seem aesthetically pleasing, Daily Eats when I want a mind blowing milkshake, and BurgerFi when I just want a good burger. Sophomore Alexandra Fonseca remarks,"Whether I'm going to the bookstore or the restaurant or I'm there to study, I instantly feel hipster and cool when I step through the doors. That place is just so Tumblr worthy and perfect." Food is a topic that any AHN girl could go on and on about, so I'm going to just stop now and move on.
I'll be up in the gym(or park), just working on my fitness
Yoga in Curtis Hixon Park//

600 N Ashley Dr, Tampa, FL 33602

Biking bayshore & downtown//

Bayshore Blvd.

Swami Juice//2832 S MacDill Ave, Tampa, FL 33629
After all the eating and coffee drinking, you have to work it off somehow. The one amazing thing Tampa has to offer is just the amount of scenic workouts there are. Whether you run or bike Downtown or Bayshore, or do yoga in Curtis Hixon Park, it makes it easier to work out when you get a beautiful view to match your beautiful self. Given all that Tampa has to offer, whether you workout with friends or by yourself there is something for you. Senior Grace Toups shared, "Yoga is my happy place. I am forever a yogi."Every Sunday at Curtis Hixon, yoga is from 6-7pm. Its completely free, so why not go! You get to relax while toning and learning, and developing balance, patience, and strength. Places like Swami Juice or SOHO Juice Co. are the perfect places post-workout.
Plain and simple, Tampa is amazing and we have so many cool activities and places all around us that we might not even know about.