Academy Working Girls
After completing homework each day, teens often find themselves wasting the rest of their evening watching TV or Netflix or texting friends. A good alternative to spend time wisely and make money, is to get a part-time job. Finding a job as a teen may be hard, because most businesses don't hire teens or if you do work, adults might not take teens seriously, but the maturity and experiences created by working are worth all the while. Junior Audrey Dunn shared, "It can be a challenge to be taken seriously as a high school employee, when some customers would rather have an adult help them." Teens nowadays want to work for a variety of reasons, but majority of teens are motivated by the desire to buy things. Working teens often spend money on car expenses, sport teams, clothing, educational reason, or planning ahead by saving for college. Academy girls continue to prove maturity and how well rounded they are by on top of their school work and numerous extracurriculars, working part time while in high school.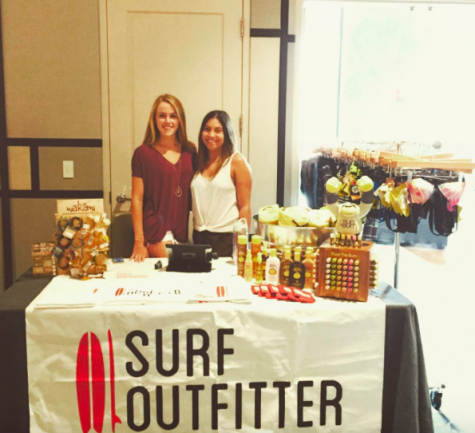 Senior Audrey Cooper has been working at Surf Outfitter since April of 2015. Cooper's mom wanted her to get a summer job, but while job searching Cooper realized that she wanted to occupy more of her time and a job turned into something Cooper wanted and she wanted to make her own money. Cooper's favorite part of working is all the bikini's she gets on sale.
If I had a dollar for every bikini I bought, I'd have enough money to buy another

— aud (@aecooper3) July 23, 2015
Cooper's current job, even though it may conflict with sports and social events, it has influenced what she wants to do with the future. Cooper thought she wanted to be a Music PR, but since working in retail her views for a career have changed to a Fashion PR. On top of working three days a week, Cooper is also President of Teen Leadership Council, plays on the Varsity Soccer team, is the Senior Representative of Respect for Life, member of Key Club, and an AP Scholar. Working in high school has given Cooper real world experiences, but even though it hurts her social life, Cooper has developed connections with her co-workers and working on the connections early has helped her plan her future.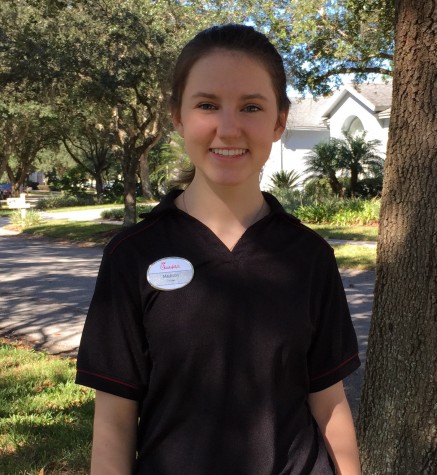 Sophomore Madison Warnock has been working at Chick-Fil-A since June of 2015. Warnock shared how she balances school, work, and extracurriculars, " I have to plan around my work schedule I get each week. I usually try and get ahead on homework the days I have to work so I will have little or no homework when I get home. I have a study hall, so I try to use that wisely. For key club I try and sign up for the events on Sunday because I don't have work on Sunday! It's all about planning ahead." Warnock decided to start working for the purpose of learning how to make her own money and thought working would be fun and would keep herself busy. Working has improved her people skills and has helped her make quick and smart decisions because there is no time to think or wonder… especially at Chick-Fil-A. The downside of working for Warnock has been the confliction of her social schedule with her work schedule, so she has to miss out on things because of her commitment to work. Warnock wants to pursue a career that involves food, so seeing how a food business works has helped.
Junior Audrey Dunn works at KT Janes and has been since the end of her Freshman year. Dunn was looking for job experience in a small boutiques since she is interested in potentially opening on herself and pursuing a job as a small business owner. Even though she only works two to three days a week, Dunn has learned to look ahead and get in touch with her boss, so she can know her schedule and get ahead on homework for the nights that she has work. Time management and organization is key for Dunn. The challenge Dunn has faced is not being taken seriously as a young employee, and time management, but working in a field that she wants to pursue makes it worth it, and she enjoys figuring out her likes and dislikes, learning customer service skills, and learning how to manage money.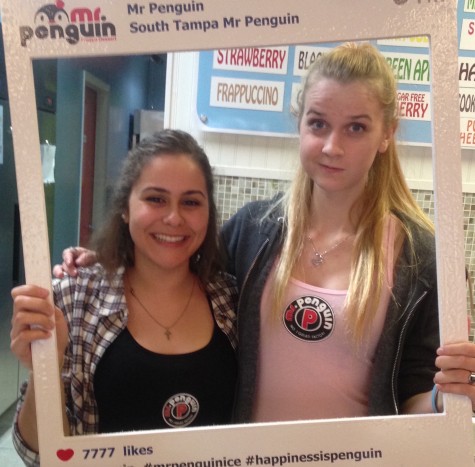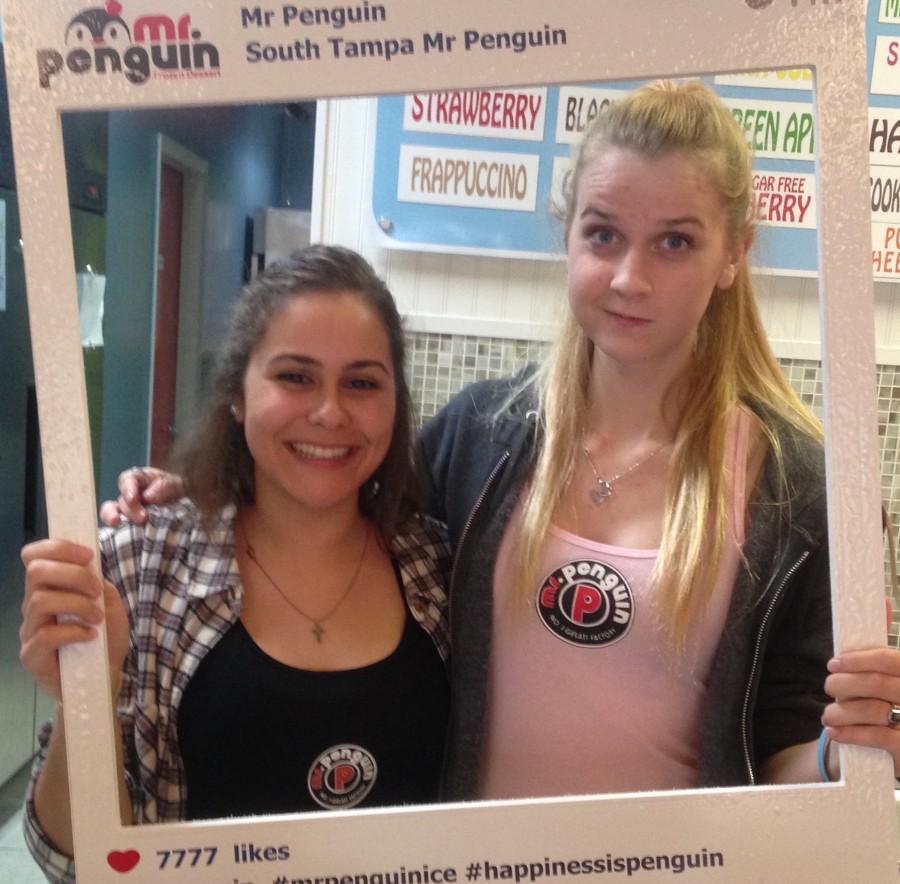 Seniors Valerie Ely and Mollie Johnson are co-workers at the new location of Mr. Penguin on Dale Mabry and Neptune. Even though Ely and Johnson have only been working for a few weeks, by working 4-5 days a week, they are enjoying the experience of making their own money.  The hardest thing for both of them is managing their time and finding time for everything in their life. Ely recommends working if you have the time for it or want your own money. Ely shared a tip for balancing everything, "I balance my time through managing things around my work schedule. It's definitely difficult, but it's possible. I work close to my house so it's easy to get around. Once I get my schedule, I plan my events for the week like tutoring, and if I have clubs or a big test I try to find someone I work with to switch with me that day and I'll cover for them another day. Also, I try to do my homework whenever work is slow."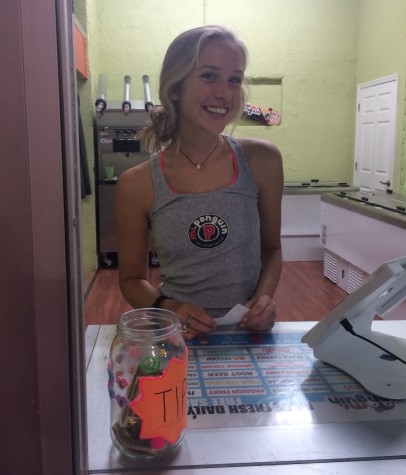 Senior Grace Toups has conquered working in high school by working two jobs. Toups works at Mr. Penguin and as a gymnastics instructor at the YMCA. Toups has been working for YMCA for six months and Mr. Penguin for two months. On top of working five to seven days a week, Toups is a member of Golden Girls, chaplin for Respect for Life, Vice President of Communication for Ambassadors, editor for the school newspaper, ACHONA, and an AP Scholar. Toups's love for  gymnastics and working with children drew her to working at YMCA and her love for ice cream drew her towards Mr. Penguin. Working two jobs has made her focus on her time management skills and she has learned how to plan ahead. Toups does this by bringing homework to work and working while business is slow. Having her own money has made her more independent and less dependent on her parents. Toups recommends working to her peers for the purpose that working is a stepping stone for the real world.
For sure working in high school is not for everyone. Whether you are too young, do not have the time, or whatever reason, still AHN girls know how to keep themselves busy by still being involved with clubs at school. Some students like Alexandra Smith, plan on having a job, but don't know exactly where or they are just too young. Sophomore Alexandra Smith is planning on working at Twistee Treat because it is only of the few places that hire teens younger than 18. Smith shared, "It seems like fun working in high school. I want to work for the purpose of preparing myself for the real world and teach myself good time management skills." There are also other ways to get money; sophomores Alexa Traviesa and Sophia Doussan both get an allowance and both participate community service work, yet both are interested in working retail while in high school. Working has pros and cons and may not for anyone, but everyone who does loves it and highly recommends working.