New math teacher and Academy alumni, Anne Mikos, changes the world one summer at a time
We all look for that perfect summer job- some go for working as a lifeguard, a customer associate at Panera, or even that camp counselor job at the YMCA. New math teacher, Anne Mikos, is the champion of the summer job and has been spending every summer working at the YMCA since she was fifteen.
This past summer, Mikos and her kind heart felt the need to work with foster children and those living below the poverty level at the Y, and the experience she got was transformative. She says, "the rewards are much bigger than the paycheck. We work hard each and every day to give the campers new experiences that they may not get in their home lives. We show them Kid President videos for motivation, bring in guest speakers about healthy foods and exercising, take trips to museums to learn history, and even have each child create a mini passport to help them understand the big wide world. Everyday is a new adventure." Other activities counselors stress during summer camp is swimming. They feel that living in Florida, it is essential to be a strong swimmer; therefore, she says, "Each child in our program receives free swim lessons every day to ensure their safety in the water."
Kid President is a child actor best known for giving his audiences inspiring life pep-talks. But maybe what makes him so inspiring isn't just his helpful advice, but who the advice is coming from. Robbie Novak suffers from osteogenesis, making his bones super brittle giving him a broken bone count of seventy; yet, with his positive few words he was able to rack up twelve million views on YouTube. Across the school, rumors speculated that Mikos and her camp kids became in contact and even, developed a relationship with Kid President. After questioning Mikos if the rumors were true, she responded with, "I will neither confirm nor deny that rumor. I like that rumor a lot so let's have that float around."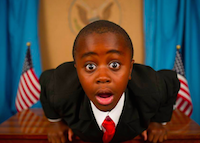 Anne Mikos is from Tampa, Florida. She tells ACHONA," I attended Nativity Catholic School for Pre-K through 8th grade, then came to the Academy for 9-12. I attended Clemson University for my first two years of college where I studied Material Science & Engineering. Then I transferred to USF Tampa and finished with my degree in Mathematics". She claims that her favorite subject in school was math, and she loves kids, and she loved Academy – so why not make a career out of it? Hence, her teaching career at the Academy of the Holy Names was commenced this fall. She believes, "Academy was just the right fit for me!"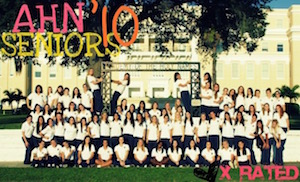 Mikos is also anAHN alumni and is mega proud of the school. Her pride is so extensive that she is taking what was previously Beth Chase's role of Prom Committee Coordinator into her own hands this year. She claims that the committee has been working great so far and plans to create an unforgettable night for each AHN upperclassmen . As committee coordinator she wants to accomplish, "that every Junior and Senior feels like they have a special night to share with their sisters, better than they could have imagined".