5 tips to find the best clothes for you online
Online shopping can be very tricky because sometimes the internet can be deceiving, and it can be hard to tell what the clothes will look like on your own body. Here are the top 5 tips for online shopping for yourself.
Tip #1
Know Your Body Type
To be more sure of if what you are ordering will look good on you you need to know your body type. As freshman Julia Barreta says, it is hard her to "find something that looks realistic for me to actually wear." This is wear knowing your body type will help. For example, if you are tall then you would need to be careful that a dress you are ordering wouldn't be too short. The opposite would be if you're short, then you would need to make sure a dress wouldn't be too long. Another example is, if you have broader shoulders you may want to look at the different necklines of the clothes you are looking at, and think how that style would look on you. Freshman Emily Abdoney had this happen to her. She says, "A potential homecoming dress I ordered had a V neck that didn't look deep in the picture, but ended up being very low."

Tip #2 
Know Your general measurements
If you know your measurements, then the size chart that is provided on the website will be helpful in deciding what size to order. If you dont know your measurements then you can read how the sizes fit. Junior Hope Rossi mentions, "For me it's difficult to order the right size if the reviews say "it runs large" or "runs too small" because then I'm not sure if I should size up or down." If you are also unsure in a case like this, the size chart will be especially helpful in telling you how it will fit. Typically if it says it runs a size too big, then you might want to just order a size smaller than what you would normally get so it will fit you just right.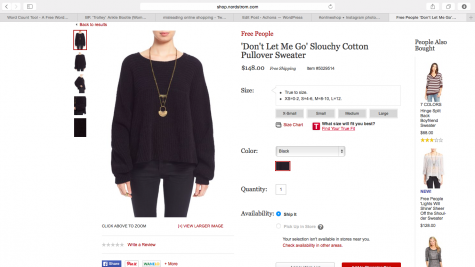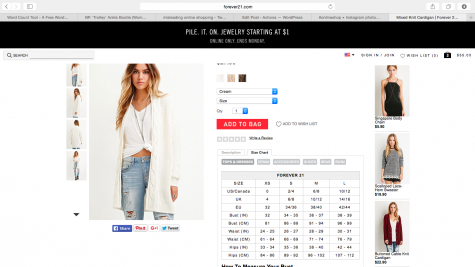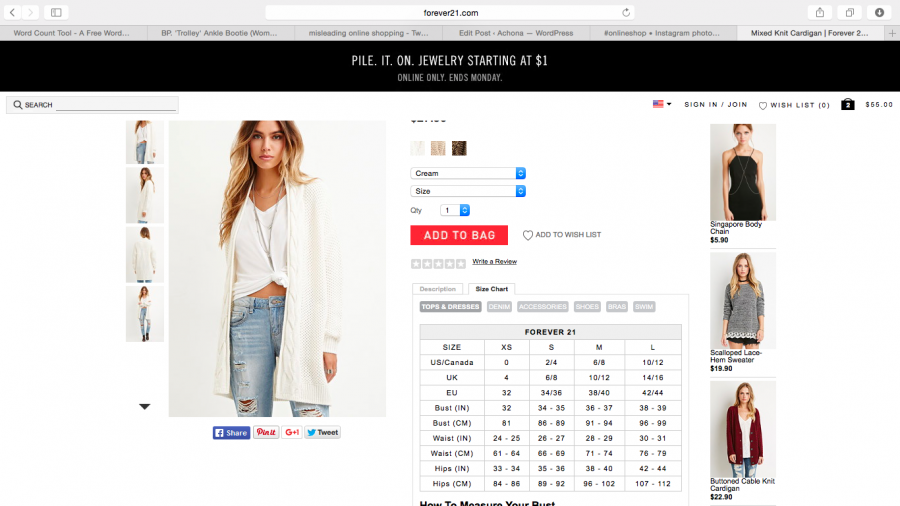 Tip #3
Check Materials
This tip is very important because the internet can be very misleading. For example, let's say you are ordering a dress for a special occasion, and the material of the dress you are ordering looks nice and shiny, so you order it. Then  when it arrives you come to find out it is just made out of your average cotton, and it looks to casual now. Well, if you read in the details of the item you will find that it should say that the dress is made out of cotton.
Tip #4
Read Reviews  
By reading reviews on what you are about to buy you can see what people say the product is really like. You may see comments like, "I'm in love with this jacket I wear it all the time," or, "This shirt in nothing what i thought it looked like in person and at fell apart after only wearing it once." Both examples of comments are ones you want to know before investing your money on an item. Rossi also says, "I ordered a Homecoming dress online this year and it came in being a different shade of that color and a different fabric." This is why this tip is so important.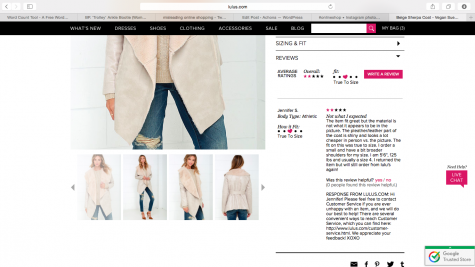 Tip #5
Know What Colors Flatter You the Most
Colors can be deceiving just like everything else on the internet. Just make sure when choosing what color you are going to get of you item that it would be a good color on you. You want to wear colors that compliment you. For example, if you have blue eyes, instead of ordering that shirt in red you should get it in blue because it would bring out your eyes. Another example would be, if you are tan maybe try wearing white to show off your skin tone, and make you stand out.