97x Next Big Thing 2015 Lineup Is Announced!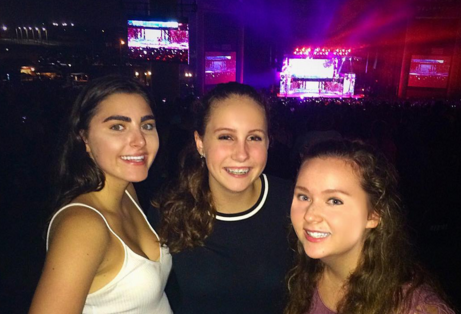 On December 5, 2015, Grow Financial Federal Credit Union presents its 15th year hosting the concert event 97x Next Big Thing 2015 at the 1-800-ASK-GARY Amphitheater! Having many different genres of music coming to perform, this concert is going to be fun for all ages. With 97x Next Big Thing 2014 event having a good majority of the student body in their seats, many will come back again for a day of singing and dancing to their favorite bands and just having a fun time.
https://instagram.com/p/9b9ZkdSwfg/
Lover of live music and concerts, Junior, Mary Kate Urbanski admits, "I want to go so badly mostly to see the Neighborhood and Walk the Moon. The Neighbourhood is one of my favorite bands, and they recently came to Tampa but it was on a Monday night so I couldn't go.  So I am definitely looking forward to their performance." Urbanski also states, "I know that it is at the fairgrounds and the lineup is crazy cool. I also know that a lot of people are going and I know a lot of people that went last year and said it was fun." Junior, Claire Leto, exclaims, "I'm going again this year, and I'm so excited! Twenty One Pilots & Pvris are two of my favorite bands & I'm excited to see them perform again!" However some have slowly left the concert scene such as, Junior, Rachel Tata, "I don't really go to many concerts, although I used to a lot when I was in middle school" swapping out concerts for performances at the Straz Center. Junior, Haley Schumann states, "I don't go to many concerts because tickets for good seats are expensive," which is the main reason why most people don't go.  Junior, Sarah Tevlin says, "I'm not much of a music fan, so I have never heard of most of those bands," which is also a reason not to go, but it's always a good idea to go because, as Junior Hannah Menendez exclaims, "You can't go wrong with going to a concert they're all fun. Even if I don't know the words to any songs it would still be worth going."
https://instagram.com/p/80xDFINsvb/
---
This is this year's lineup for the upcoming concert:
Andrew McMahon in the Wilderness
---
Get your tickets for this year's 97x Next Big Thing Concert here!
Did you know that if you follow their social media accounts, occasionally they will announce FREE TICKET DROPS around your area!
 Twitter | Facebook | Snapchat: @snap97xtampabay
#TBT to Tampa, FL at @97xonair's #NextBigThing. Thanks to @TB_Times for the picture! http://t.co/LEqvxMU6Kx pic.twitter.com/CHhcnP0jZA

— J. Roddy Walston (@JRoddyBusiness) December 18, 2014