"Brew Good, Do Good": Buddy Brew Makes More Than Coffee
Founded in 2010 by Dave Ward and his wife Susan, Buddy Brew Coffee is a roastery committed to making delicious coffee and helping the community. What started as a simple idea and small shop has grown into a local icon as Buddy Brew has expanded from their original location on Kennedy to having a coffee bar at Oxford Exchange, and a coffee truck that they comically report "makes office calls."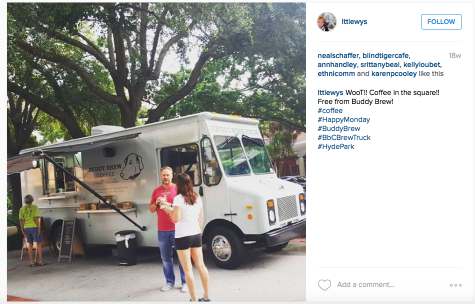 They are now opening another location in Hyde Park and have won the 2015 Creative Loafing staff pick for "Best Caffeinated Cloning".  As the empire expands, Buddy Brew has not forgotten their mission to "Brew Good, Do Good". Co-founder Dave Ward makes frequent mission trips to needy areas, such as the Dominican Republic, that are populated by squalid coffee farms. The goal is to "[invest] in their local communities" and "promote sustainability by improving farming standards." This will hopefully begin a cycle of improvement in which the coffee farms will be cleaner and more efficient, producing a better product (more delicious cup of coffee), which will turn a bigger profit, allowing the wages of the farm workers to increase. This will stimulate the commercial farming industry and foster the communities centered around these farms.
Drink coffee. Help People. Now featuring our direct trade coffee, Two Hills + Roaster's Reserve, BURUNDI. Enjoy… http://t.co/k9nmToq134

— Buddy Brew Coffee (@BuddyBrewCoffee) August 19, 2015
In addition to all the good Buddy Brew does, they have also cultivated a reputation for brewing excellent coffee. Junior Megan Matter says, "They have great food, fantastic coffee and a nice atmosphere." Matter visits almost twice a week and notices how they set themselves apart from commercial giants like Starbucks. She comments, "Buddy Brew puts a lot of focus on their workers." On the About page of their website, anyone can read an engaging blurb about each staff member.
Taking a brief break from mtgs for a hot Rwandan pourover from @buddybrewcoffee. Place is packed – build them right & they will come.

— Mark Sharpe (@MarkSharpeFL) July 10, 2014
What to do when show up 2.5 hours early for a meeting in Tampa? Coffee and wi-fi @BuddyBrewCoffee!

— Nate Shannon (@InNateHR) July 1, 2014
The workers aren't just employees, they're part of a community. This is one of the many aspects that makes Buddy Brew unique. Part of their mission and aspiration is to use quality coffee to generate a community of passionate people. Matter observes, "I've seen people do everything from planning a wedding to designing a website at Buddy Brew." She appreciates the diverse crowd the coffee shop draws and their conciseness of the community's interests. "They have live music sometimes and they always have fliers up for fun things happening around Tampa."
Just ordered Sumatra and Brazilian coffee from @BuddyBrewCoffee. Looks really good…

— Nicole Murillo (@codebeta) May 21, 2014
Matter also admires Buddy Brew's motto: Brew Good, Do Good. "Buddy Brew is really dedicated to going green, they deliver their coffee to where I work [Duckweed] by bicycle." she says. Matter also recalls this past summer when "Tampa was basically underwater" and says, "Buddy Brew went and gave everyone stuck on Kennedy a free cup of coffee." Whether it is working to improve their coffee farms, or striving to make their employees and customers feel special, Buddy Brew creates an rare ambiance that has skyrocketed them to success. Matter can only describe the atmosphere as "Warm, cheerful and fun."
Thank god I have @BuddyBrewCoffee to save me this morning.

— Michael A. Rodriguez (@practicaltalks) June 23, 2014
By the way, if you're heading down Kennedy and decide to stop in, Matter recommends trying a juice, a seasonal seasonal Pumpkin Spice Latte, or "an affogato which is an espresso shot poured over a scoop of vanilla ice cream". YUM.
**Want to see how they brew their coffee?
**and here's an amazing gallery of photos that will make Buddy Brew #1 on your to do list.