Black Friday 2015
Ahh, Black Friday! The satisfaction of a new bargain in the midst of listening to Christmas music, waiting in long lines with a Starbucks' Peppermint Mocha in hand, all done by waking up at the crack of dawn the day after Thanksgiving are some of the protocols to a shopper's favorite holiday that took place November 27. America's go-to Black Friday hot-spots included American department stores like Target and  Walmart. Academy girls' favorite clothing stores like Urban Outfitters, Anthropologie and even Abercrombie & Fitch featured loads of deals.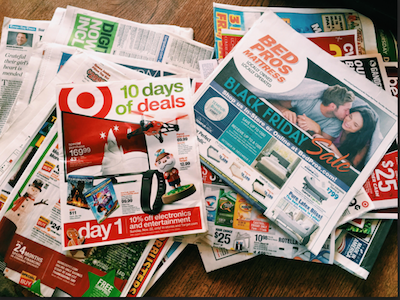 Target is always a morning go-to as shoppers wake up at 3 in the morning to hit a deal. As announced in Target's Black Friday preview ad- they listed that they will be selling Beats by Dr. Dre headphones, a $199.99 value for $96.99. Another highlight was they were selling a Nikon camera for $99.99 instead of a what was $229.99 value. Other Target deals include newly released DVD movies(the ad listed Pitch Perfect 2 and Jurassic World) for a price of $10: perfect for a stocking stuffer. Surely, these items will hit Academy girls' Christmas wishlist. Senior Becca Parrillo hopes, "I like to think that I would get at least a good chunk of Christmas shopping done".
Black Friday best deals are @Target trust me ?

— Alex from Target (@AlexLeeWorld) November 27, 2015
Walmart, known for having already greatly low prices on their merchandise, always hits it out of the park for Black Friday with gifts such as Fitbits for $59, a Roku smart TV $125, and even an iPad mini 2 for $199. This year, however, Walmart  opened for shopping at 6 PM on Thursday before Black Friday. That's right you heard correctly, Walmart was available for early shopping on Thanksgiving: a day which should be spent with family. Highly controversial, most people disapproved of the Walmart company making their associates work on a national holiday of thanks. Parrillo believes, "I think that really shows how consumer based our society has become. People would rather be at Walmart shopping instead of sitting at home enjoying time with their friends and family".
As for apparel stores, Urban Outfitters had 30 percent off all sale items. Junior, Rachel Rosales, an advocate for Urban says, "I kept my eye out for new sweaters and skirts for this season."
However, freshman Colleen Duffy believes their "store has so many more things than just clothing in it and it's fun to browse in but it's a bit on the pricey side." Anthropologie will be having  25 percent off the entire store and 50 percent off certain items. This includes all merchandise from apparel to decor to stationary. Freshman, Tiffany Arnao says, "I will definitely add one of the planners they have. They're cute, plus they'll really help me to stay organized in school."
Abercrombie and Fitch, THE store that rocked our middle school years, has really made a comeback lately with styles similar to trendy brands like Brandy Melville and Urban Outfitters. This year, they will be having 50 percent off the entire store plus free shipping on all orders. Freshman, Isabella Bahr says, "on Black Friday morning I immediately went online and checked out Abercrombie's denim skirts as well as their always bargain efficient clearance section".  And who can ever forget Victoria's Secret? This year's highlight specials included buy one get one half off all bras. And for online VS shoppers they offered free shipping after a fifty dollar purchase AND 20 dollars off a $125 purchase with the code SHIP50FREE.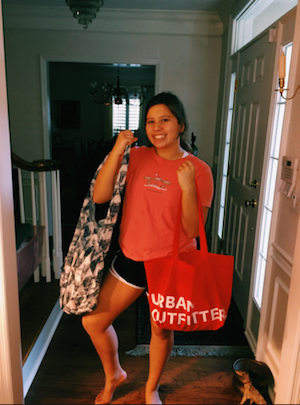 You asked for a picture, @VictoriasSecret! #BlackFriday #VSHaul pic.twitter.com/xmLI7tD7uo

— Hannah Green (@Hanagren) November 27, 2015