Finding a College Roommate 101
After the excitement of being accepted to the college of your dreams, the next step is finding a roommate.  This process is similar to online dating. Surveys can be taken in order to match your compatibility with your future roomie.
Senior Rylee Johnson, admits "I was so excited to get into Loyola Chicago, but then I realized I had to find a roommate. I immediately started stressing out trying to figure out how to find the perfect roommate."
A roommate can make or break your college experience, so finding the right one is very important. Joining the college facebook pages can help get in contact with other people going to the same college.


Posting on the Facebook wall is a great way meet potential roommates. Most people post something about themselves and what they are looking for in a roommate. Next, they receive chats from people who could match them.
Senior, Miranda Plummer states, "I posted on the Auburn Facebook wall, and in less than 10 minutes, different girls started chatting with me and asking more about me. I love how easy it has become."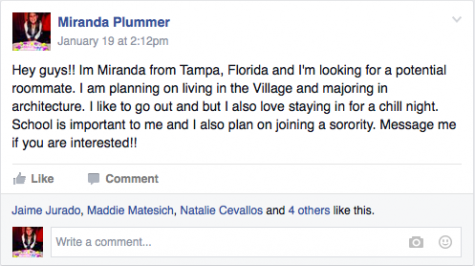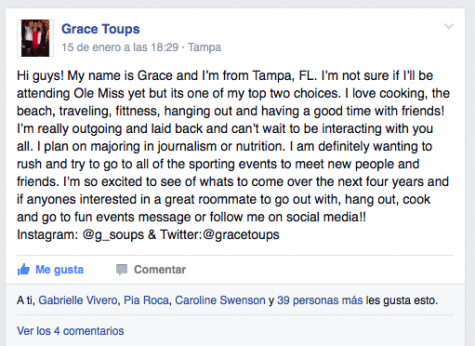 Once you have posted on the wall, the anticipation of waiting for people to chat or like the post kicks in. The chats are always awkward small talk, getting to know the other person. They go along the lines of "Hey I saw your post and was wondering if you are interested?" After the small talk, if you decide you don't want to room, then how do you tell the girl this? Letting her down easy is the key. You can inform the girl that you already have found another match and are no longer available. Don't be scared to tell them this, it will help both of you in the long run.
Another efficient way of finding a roommate is through RoomSurf. This website asks you to fill out a series of questions and then matches you with people with similar results. You can them get in contact with your matches and ask if they would be interested in rooming. 
The survey consists of questions about personality, cleanliness, habits, and beliefs. After taking the survey, you immediately match with other girls and you can chat them things like "Hey I saw we had similar results and I would love to get to know you!"