Humans of Academy: Camille Opp takes on New York Fashion Week
The 43rd semi-annual New York Fashion Week began on Thursday, February 11 with Nicholas K's show, where Academy's own junior, Camille Opp, walked the runway. The sixteen year old walked her first runway show in the opening event for Nicholas K. In an interview with Opp, the model provided the inside scoop on fashion week from an insider's perspective.   
V: How did you get your start in modeling?
C: "I was actually found on the beach. I was with my mom and one of my friends and I were playing in a beach volleyball tournament. A woman came up to me and asked me if I modeled, and I never did before. I signed in Tampa, and then she sent me to Miami, and then Miami sent me to New York. So I have an agency in Miami, New York, and Tampa."
V: Was it something that you always wanted to do?
C: "Well, I didn't really think about it until I was found on the beach, but I love it now."
V: What was the coolest shoot that you've ever done?
C: "Probably so far, Vogue Italia and I shot that in the Everglades. I had to hold an alligator and go on an airboat, and so it was pretty cool."
V: Was this your first time walking?
C: "Yeah.. for New York Fashion Week you have to be 16 and so this is my first season. I walked one show and hopefully I'll walk more in the fall."
V: Did you ever want to walk in shows or did you want to stick with shoots?
C: "Definitely walking in shows kind of helped to put your face out there so people will recognize you, so i definitely wanted to do that."
V: How did you land the gig for Nicholas K?
C: "My agency sends me to different castings for fashion week, so I met with a couple people. I met with Nicholas K, they fitted me, and wanted me to walk for them, so then I stayed up in New York for an extra day and walked for them.  Originally, my mom and I were planning to leave because we thought I was walking the week after, because that's when the shows I first auditioned for, but then I booked that one [Nicholas K]."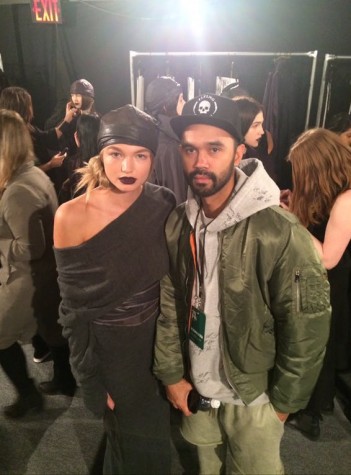 V: When you first found out you were walking in fashion week, what was your initial reaction?
C: "I definitely was really excited because I've been working really hard for this and kind of relieved because I finally got something that I've wanted to do, really bad. I thought of school, like, "what am I going to do with missing school and all these assignments?". Thank God all my teachers were so helpful with all of that, so it was good."
V: How did you prepare leading up to the day?
C: "Well definitely getting a lot of sleep because I had to wake up at 3:30 in the morning. Making sure you eat a good breakfast so you're energized for the day."
V: How was it going on stage for the first time, walking, seeing all the cameras and people?
C: "It was very overwhelming, but it was probably one of the best experiences I've ever had. I can't even describe the feeling and how it was, it was amazing."
V: You recently shared a story about your class ring before the show.. what was that about?
C: "We were all getting ready and they were putting on my clothes and we all stood in a line backstage. Before we go out, they check to see what we are wearing and check our nails—because they paint our nails— and then they saw my ring and they're like "Oh my gosh you have to take that off" so I took it off and I'm like "make sure you keep this and hold it." It was kind of a cool story."
V: What was it like completing the show? What were your feelings, what happened?
C: "After the show, we all took our makeup and clothes off and changed back into our normal clothes and then we walk outside and there was literally huge mobs of paparazzi outside taking pictures of all the models." Opp laughed recalling the moment and added, "My mom and I were walking to our Uber and they were following us and I just wanted to say, "I'm no one like you don't have to follow me, like honestly." It was really overwhelming and amazing, I can't even describe it."
V: During one of your volleyball games, some people in the crowd of the opposing team began shouting negative things about your height. When these sorts of things happen to you, how do you stay confident with yourself?
C: "During the volleyball game, when I heard people making fun of my awkward legs or my awkward height it made me laugh because they think they are hurting me, but they are doing the opposite. Whenever someone in life tells me I'm not good enough or tells me I will never succeed, that makes me want to work even harder to get there. I also have amazing friends and family that make me feel good about myself and give me confidence to succeed."
Opp is not only successful on the runway. In addition to her New York Fashion Week success, the model plays volleyball for Academy, and in 2015, she verbally committed to Tulane University in New Orleans. With all her success over the course of the last year, Opp remains both humble and truly lives up to Academy's motto, Esse Quam Videri.