Jesuit Masque's Much Awaited Spring Play: "A Few Good Men"
Jesuit and Academy students have been rehearsing tirelessly after school, from 4 to 6 everyday, with Jesuit Masque's theater director, Richard Miller, to prepare for their spring production of A Few Good Men, written by Aaron Sorkin.
This 1989 Broadway hit follows the story of the trial of two Marines, Dawson and Downey, who have been charged with the murder of a fellow Marine at Guantanamo Bay. Their Navy lawyer, Kaffee, a shallow young man who's more interested in softball games than the case, expects a plea bargain and a cover up of what truly happened. Pushed by Jo Galloway, a female member of his defense team, Kaffee eventually makes a valiant effort to defend his clients and, by doing so, he puts the military mentality and the Marine code of honor on trial.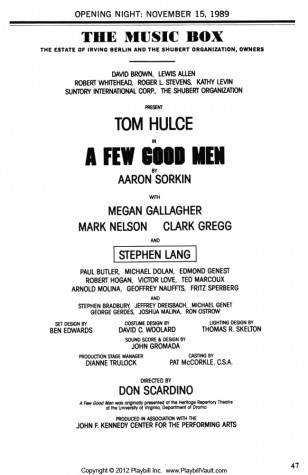 Academy student Evelyn Martinez (grade 10), who plays Captain Julia Randolph says, in her opinion, "My favorite part is when Dawson salutes Kaffee in the last scene of the play to show he respects him."
People may recognize A Few Good Men as the 1992 movie starring Tom Cruise, Demi Moore, and Jack Nicholson. Most people would agree, A Few Good Men is most remembered for it's iconic line "You can't handle the truth!"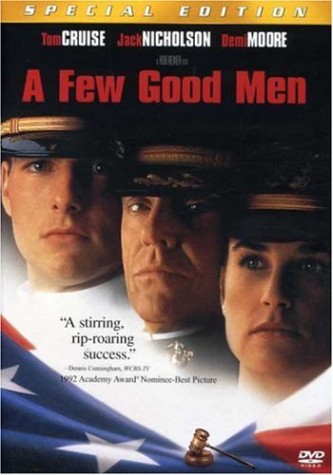 Audience members can decide for themselves what their favorite part of the play is. The play opens on April 21 and runs to April 23. There will a total of four performances, each at 7:30 p.m., and one at 1 p.m. on Saturday, in the multi-purpose room at Jesuit. Tickets are $5 for Jesuit students and $10 for general admission and can be bought at the show or reserved through one of the actors.
In terms of the two schools working together, Jesuit senior Austin Hernandez, who plays PFC Louden Downey, says "I think it's great. The girls we have are good sports and they're pretty fun."
The remainder of the cast includes:
Jesuit student Kyle Cansler (grade 12) as Lieutenant Colonel Nathan Jessep, Academy student Gracie Hancock (grade 12) as Lieutenant Commander Joanne Galloway, Jesuit student Lucas Pasquier (grade 11) as Lieutenant Sam Weinberg, Jesuit student Alex Pena (grade 10) as Lieutenant Jack Ross, Jesuit student Jacob Zellen (grade 12) as Lieutenant Daniel Kaffee, Jesuit student Sam Lauro (grade 12) as Lance Corporal Harold Dawson, Jesuit student Paul Consalvo (grade 12) as Captain Isaac Whitaker, Jesuit student Hunter Ratchford (grade 12) as Captain Matthew Markinson, Jesuit student John Hentschel (grade 12) as Lieutenant Jonathan Kendrick, Jesuit student Jack Mahoney (grade 10) as Corporal Jeffrey Howard, Jesuit student Vito Holmes (grade 12) as Commander Walter Stone, Academy student Bella Onken (grade 10) as Lawyer 1/Guard, Jesuit student Noah Armenia (grade 11) as Lawyer 4/Corporal Dunn/Tom/Guard, Jesuit student Dalton Hoffman (grade 11) as Lawyer 5/Corporal Hammaker/Guard, and Jesuit student J.P. Menendez (grade 9) as PFC William Santiago.