FitBit Conquers Academy
People all around the world are tracking their fitness like never before and it is all because of the latest and greatest, FitBit. A FitBit is a tracker designed to help you become more active, eat better, sleep better, and ultimately, help you transform into a healthier being. The device is worn around the wrist in a comfortable and flexible format and then synced with a smartphone or computer to calculate your daily activities. In addition to tracking your fitness, this wristband doubles as a watch and comes in different colors for a trendier look.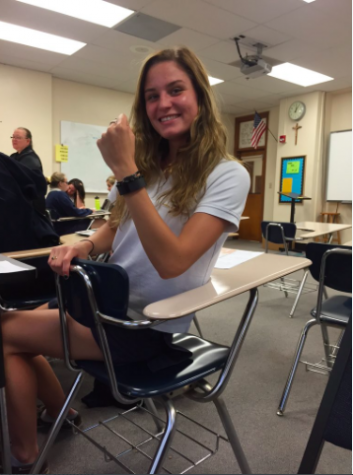 Senior Maddie Matesich feels very strongly about her FitBit as she stated, "I recently started using a fitbit, and I am completely obsessed with it. It keeps me active, since I refuse to go to sleep until I hit my 10,000 step goal. I also love the fact that you can add friends and challenge them to see who can get more steps. My fitbit has taken over my life, but it's a healthy obsession."
Many say that you don't own the FitBit, the FitBit owns you, making Maria Zeno very fond of hers. "I love everything about my Fitbit! I think it's a fun way to stay in shape and watch what you eat with your friends. I think it's super awesome how you can challenge your friends and how it feels like a social media network centered around healthy living. I'm obsessed with my Fitbit and I know me and all my friends are too and getting my steps in takes over my life in a funny way. I remember when I first got my Fitbit no one really had one and people made fun of me for it but slowly everyone has begun to get one and it's made it more fun and motivating to be healthy."
If you look around, FitBits are everywhere. Soon, everyone will be sporting it and it will be the best way to stay in shape. People have made it their New Years resolution to be consistent with their FitBit. Stay healthy and fit in 2016!