Sister Lisa Professes Her Final Vows As an IHM Sister
On Saturday, March 12 in Scranton Pennsylvania, in the glow of a cozy chapel ornamented with stained glass, Sister Lisa Perkowski made her final vows as a sister of the Immaculate Heart of Mary. The excitement was almost palpable as friends and family exchanged whispers of expectations and well-wishes for Sister Lisa. The chapel fell silent as the mass began with a Liturgical dance performed by Sister Lisa and two other IHM sisters.
The mass was celebrated by the pastor of Sister Lisa's home parish, Fr. John Andrew.
She says, "I had confided in him when I was considering becoming sister. He presided for my first vows, so it was special to have him back for this."
After the readings and homily, Sister Lisa "testified to her own readiness and desire to commit to God" and the assembly shared in prayer for her. Next the Litany of the Saints was sung and Sister Lisa recited her vow of poverty, chastity and obedience and signed the contract, binding her to her commitment. The president of the community, Sister Ellen Maroney, said a blessing and accepted the vows, her voice almost drowned out by ecstatic applause that lifted the church out of its quiet reverence.
As Sister Lisa reflects on this moment she comments, "It's the feeling of 'this is it…there is no turning back now'."
She adds with a laugh, "Honestly, when I was signing, Sr. Ellen whispered teasingly, 'Don't spell your name wrong', so I was trying not to laugh and be distracted. Overall, I felt peace and happiness in my heart."
The mass proceeded with the Eucharist, and a closing song and blessing. Then all the guests adjourned to the basement of the IHM Center that was beautifully decorated with tables and centerpieces made by a few of Sister Lisa's friends.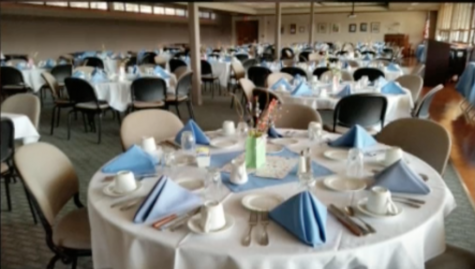 There was a delicious dinner of a summer salad, twice baked potatoes, asparagus, and roasted pork. Family and friends chatted and laughed as Sister Lisa fluttered between groups of the packed tables, catching up with old friends and making everyone feel welcome.
Since she has lived and worked many different places, Sister Lisa recounts that it was so special to be able to celebrate a milestone in her life with people she had connected with from all over.
"It made my life feel very whole," she reflects.
After dinner the AHN Scranton missionaries were instructed to be the bold few to clear the dance floor and showcase some winning moves.  A few old favorite songs were dusted off like "Time of My Life" and "Dancing Queen", accompanied by some attempted Rockette kicks and a conga line so long it wrapped around the room.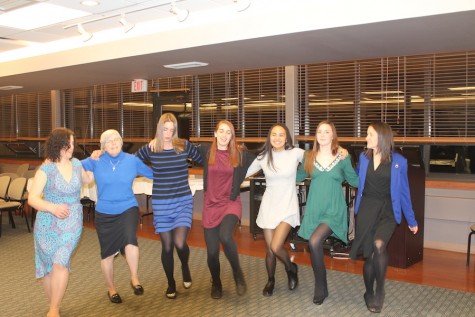 After six and a half years of being a nun, Sister Lisa claims she "just felt that it was time" to profess her dedication to her faith for the rest of her life.
She adds, "I feel that making this commitment gives me focus in my life."
Sister Lisa could think of no better place than alongside the IHM sisters to "carry on the Spirit and mission of a community". After developing friendships with the sisters during her college years at Marywood University in Scranton, she felt a connection to the message and spirit of the order of the IHMs.
She comments simply that "my spirit and gifts fit their charism".
Right now Sister Lisa is content to where her mission has brought her. She remarks, "I hope to keep supporting all you young women in finding and developing your creative gifts–and in seeing the presence of God in yourselves and our world."