Spring Fashion Trends as Told by New York Fashion Week
New York Fashion Week never fails to bring it' "A" game forth to the big world of fashion. The week kicked off on Wednesday, February 11 and ended the following Wednesday the 18. It was followed by the equally prestigious London, Milan and Paris Fashion Week.
Senior Gabi Vivero says, "Fashion is a huge part of my life and I love everything about it. Fashion week is one of my absolute favorite times of the year. In the future, I hope to get involved with NYFW or LFW".
Recently an Academy junior and part-time model, Camille Opp, had the opportunity to be featured in New York Fashion Week for designer Nicholas K.
She describes, "The fashion on the runway definitely differs from the style on the streets. Every runway show has a different theme, and a lot of them were very futuristic". She later dishes,"My favorite part of New York is shopping on 5th Avenue."
Some of the hottest upcoming spring trends off the runway and from street style blogs include:
Get ready to show some skin ladies because according to NYFW it's all the rage from designers across the board. Pair denim skinny jeans and a flat sandal to complete the look. Ditch the necklaces, it takes away from accentuating the shoulders and neckline.
Sophomore Françoise Corser believes,
"Off shoulder tops are very chic and can even give an edgy vibe to an outfit,but keeps it classy at the same time!"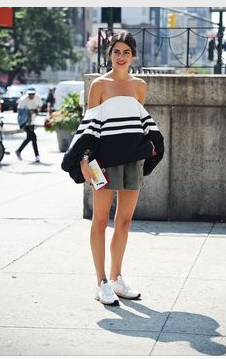 https://www.instagram.com/p/BBFm5ufjo0C/?taken-by=kendalljenner
Ever use the expression, "orange is the new black"? Well for spring 2016 this phrase definitely applies.The color adds a pop to an outfit, can accentuate a fresh tan and gives an over-all sunny look to the outfit.
Many designers such as Rachel Zoe and Rebecca Taylor channeled a very gypsy,bohemian vibe in their shows. Incorporate this into your style with an embroidered top or flowy pants to represent the free-spirited vibe similar to a gypsy.
Senior Gabi Vivero says, "A gypsy inspired trend that is really big this year are chunky tribal and ethnic necklaces with layering pieces."
https://www.instagram.com/p/2eps1Qkq9h/?taken-by=elviv.pdf
Fringe, specifically fringe hems were a huge trend this year. Think dress or skirt with the bottom hems accentuated with fringe. It definitely makes a bold statement so couple a fringe skirt with casual flat gladiator sandals and a white dress top.
Junior Maria Cacciatore counters, "I consider fringe a statement piece so I personally wouldn't do a head to toe look with it, but I think as accessories they are really fun. I am also a huge fan of fringe on shoes!!"
https://www.instagram.com/p/BCc_ZIoO4ua/
Black
Kind of contradicting to the whole " spring" idea, but black was featured in many shows this year. Can you say Pat Benatar? Channel your inner rocker with dark liner and your favorite black skirt. If you're really feeling it, add a black ribbon choker, a dark pair of shades or black booties.