Most Underrated Movies on Netflix
Sometimes it can be hard to find something good to watch on Netflix. Many times you can be stuck re-watching movies you have seen time and time again. There are movies on Netflix that are always looked over and underrated for every mood and genre. Here is a list of movies for you to try if you're sick of re-watching the same things:
Snowpiercer – This movie is set in the year 2031 when a climate change experiment goes wrong and kills almost all life on earth. A group of people take refuge on a train that develops a very structured social class system and causes conflict. Curtis (Chris Evans), a poor man who lives in the back of the train decides he has had enough of the discrimination and starts a revolution. 

Atonement – Briony Tallis, a thirteen-year-old, with a little crush on her older sisters boyfriend and soon to be husband wrongly accuses him of a crime he did not commit. He was arrested and then forced into the army. A story about her trying to make up for her wrong doings and the two in love to find their way back to each other. Winner of two Golden Globes and nominated to 6 Academy Awards.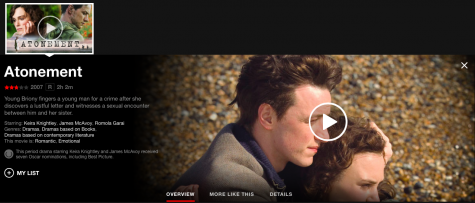 People Places Things – Will Henry is a recently divorced graphic novelist trying to balance parenting his young daughters and a classroom full of students. He has trouble seeing his wife move on but what helps him get through it is having a blossoming romance in his own life and learning to move on himself.
Get the Gringo – "A career criminal nabbed by Mexican authorities is placed in a tough prison where he learns to survive with the help of a young boy." -IMDb
All Good Things – Mr. David Marks, the son of a wealthy business man, (Ryan Gosling) was suspected but never tried for killing his wife Katie (Kirsten Dunst) who disappeared in 1982, but the truth is eventually revealed.
Django Unchained – Quentin Tarantino's "Django Unchained" tells the story of a freed slave (Jamie Foxx) on a journey to rescue his wife. This vengeful mission is full of action and will keep you on the edge of your seat.
Finding Neverland – "The story of J.M. Barrie's (Johnny Depp) friendship with a family who inspired him to create Peter Pan." -IMDb