Unbreakable Kimmy Schmidt Season 2 Has Arrived!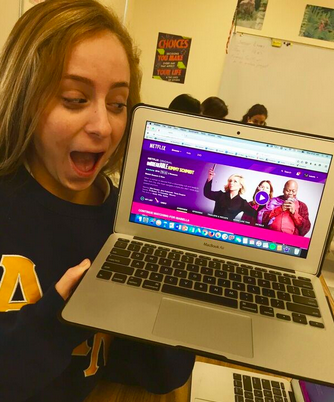 For all you Unbreakable Kimmy Schmidt fanatics, the wait for Season 2 has ended! Netflix recently released the sequel to its original comedic TV show starring Ellie Kimper. Fans have many reasons to be excited. For starters, Season 1 of Unbreakable ended with a huge cliffhanger. Kimmy emerged in a victory and finally won her pressed charges against the man who had held her and other women (or better known as "the mole women") in a bunker, following his doomsday theory, and starting a cult under his lead for fifteen years. Viewers experienced the ups and downs that Kimmy went through with her first experiences in the real world. (Psst look to our article that relates to Season 1).
So, what's different about Season 2? Well without giving away any spoilers, let's brush over some main points. Kimmy has effectively buried her past, so Season 2 immediately opens with a different tone and perspective for the character. She still speaks with all her hilarious stupidity, but the bunker and its darkness doesn't really loom over this premiere. Kimmy wants to move on and she's doing it with the help of old friends Titus, Lillian, and Jacqueline (who, if you remember, moved back to her Native American family at the end of last season. She's back in New York– it was obvious she wouldn't stay away from her lavish New York lifestyle.) Season 1 was about Kimmy gaining control of her life. Now she's focused on finding her identity, testing out new waters with relationships and jobs, and putting her best foot forward as usual.
What is there to look forward to? Songs. LOTS of songs. In fact, I'm tempted to insert a playlist with all of them right now, but I'd hate to ruin it for those fans who haven't heard them yet. For now I'll just leave this gallery of catchy tunes here, and hope that the die hard Kimmy lovers can sing along.
Finally, there will be TONS of Lillian's hilarious side comments, mixed with Tina Fey's satirical script, thrown in with Titus's sass, and so many random scenarios that you will just about pee yourself with laughter. Get excited! Kimmy is back in town.