Why Academy Girls Read The Skimm

At the beginning of the school year, teachers from the History department began requiring their students to subscribe to a daily newsletter called "The Skimm". The Skimm is an online newspaper that gives its subscribers a daily email every morning that updates them on global current events with a unique twist that keeps the readers interested.
The stories reported on the Skimm range from anything from the refugee crisis in Syria and Europe to domestic events occurring in the US, such as the Flint, Michigan Water Crisis. Along with global affairs, the Skimm also keeps readers up to date on important sports and entertainment news, giving readers a wide range of different topics for discussion.
Signing up for the Skimm is easy: Just go to their website and enter your email address in the box at the top, and just like that, you'll start receiving newsletters every morning on Mondays through Fridays.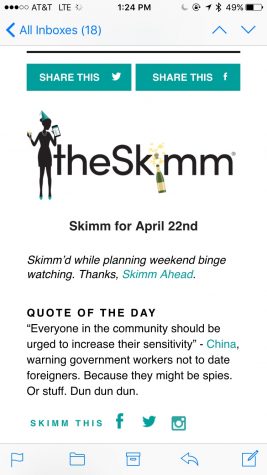 The Skimm has taken AHN by storm – Many girls have been reading it and a lot of teachers are expecting students to have read it each morning so they are able to discuss the current events of the day. It is really important for students to be aware of what is going on in the world, especially in their social studies classes.
Senior Maddie Matesich explains, "I love reading The Skimm every morning because it gives me such a good sense of what's going on in the world. It also gives me a great opportunity to discuss current events with my teachers and parents everyday."
Junior Ally Wehle also explains, "Mrs. Kearney told our APUSH class to all subscribe to the Skimm at the beginning of the year and I'm really glad that she recommended it to us. I like reading it because it gives you the daily news and adds its own funny spin on the stories, which makes it more interesting to want to read."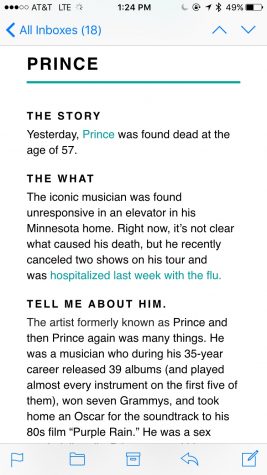 If you aren't already subscribed to The Skimm, SUBSCRIBE NOW! It really is a fun way to read the newspaper in a much, much shortened version. Start now by clicking here to read today's daily Skimm and find out what's happening around the world!