Best College Essays from the Class of 2017
Year after year, rising seniors find themselves overwhelmed by the college application process. Students typically struggle the most with the essay portion, most likely because it can be hard for them to find the perfect topic that sets them apart from the thousands of other applicants. However, many girls from Academy's Class of 2017 easily found unique topics that they were able to passionately write about.
"How Sarah Palin Changed My Life" — Reilly Sleater
Senior, Reilly Sleater's essay is about the time that she discovered her stellar Sarah Palin impersonation and how it changed her life. The overall purpose of Sleater's essay is to show how her Sarah Palin accent ultimately helped her overcome her fear of public speaking, and taught her how to step outside of her comfort zone. Sleater doubts that there is another student in America writing their essay on a similar topic, and claims that if there is, she hopes that they end up at the same college and become best friends.
"The Time Traveler" — Rachel Tata
With the aspirations of majoring in Musical Theater and later becoming a professional actress, Senior Rachel Tata, wrote her essay about her love for old music and how it transports her to different times. When asked about how she came up with the topic, Tata responded that it came naturally to her one night while she was listening to her record player. She claims that she wanted to convey how her brain works throughout her essay; more so, how she processes music, thoughts, and feelings. Tata believes that what makes her essay so unique is the way she ties in the overall theme of time travel. She also believes that the fact that not a lot of people her age treasure old music like she does sets her apart.
"Wine!"

— Vanessa Alverez
Achona Editor-in-Chief, Vanessa Alvarez, hopes to make a career out of journalism one day, and therefore, decided to amuse college admission boards with the self-deprecating story of the first book she ever wrote: Wine!
Alvarez reflects that, upon hearing the title of her book, many people assume that she is talking about whining (complaining), but it never gets old when she corrects them, stating "No. Wine, the drink."
Alvarez claims that she wrote the book 14 years ago and that it is the best thing that she has ever done.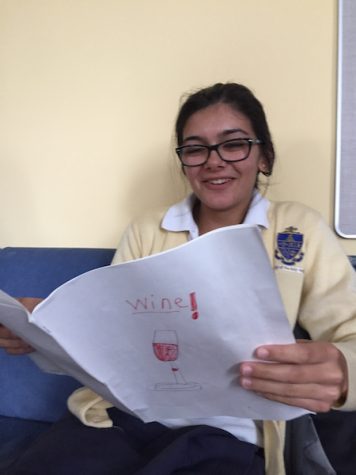 "Challenging Heels" — Julianne Nicheter
Senior, Julianne Nichter, wanted her essay to be fun and quirky, so she started by taking a less serious approach to it. The idea came rather spontaneously, but Nichter ended up writing about the time she wore black Converse high tops to prom. She believes that her essay is so unique because it truly portrays her personality.
Nichter states, "When someone who knows me very well reads it, they know that it is exactly the way I tell stories in real life and that it is my writing that they are reading. I just hope that those who don't know me as well as my good friends can see my inflection just as well."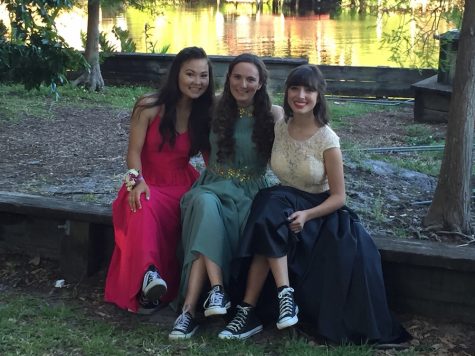 "Dancing With Myself" — Anna Padron
Features Editor, Anna Padron, wrote her essay about her famous dance move. She claims that it took her forever to come up with the topic and that she had to ask her mom, dad, and all of her friends for help before the idea came to her. Padron states that what makes her dance move so unique and important is that what started as her being herself and dancing, ended up turning into something bigger. By being comfortable enough in herself, she opened up the dance floor for others.
Padron exclaims, "My spunk and energy was contagious and that was the best part."
Senior, Jenna Wiley, came up with her essay topic as a joke, and then realized that there may be some good within the idea.
Wiley states, "I am writing about my love for America and how whenever I see military men and women I get very emotional because I love them so much."
Wiley feels that her essay is unique, because she focuses on her emotions when she is around military personnel and how she has the same reaction that teenage girls usually have when they meet One Direction, yet she is meetinging common men who walk down the same streets as her.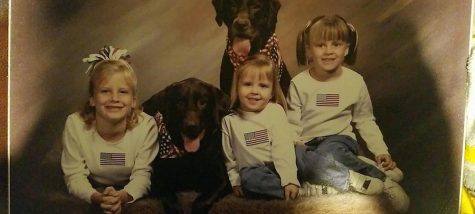 Leave a Comment
About the Contributor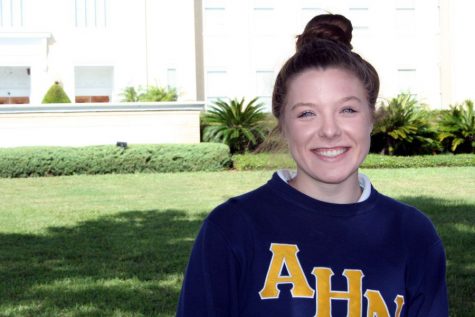 Shannon Flaharty, Senior Staff Writer
Shannon Flaharty is a Senior Staff Writer and this is her first year writing for Achona. She is excited to write about her love for photography, fashion,...