Maria Cacciatore Designs her own Line of Clothing
AHN is filled with many young women with extraordinary talents, but one young woman in particular has her future planned, and is already well on her way to achieving her goals. Maria Cacciatore is an AHN senior who has a love for fashion design and has already designed two of her own personal collections.
Cacciatore started early this summer on her first collection and is in the middle of completing her second collection. She pulled inspiration from magazines to put together a mood board. The mood board helps give Cacciatore an idea of the theme she wants her collection to have. It could have pictures of models, colors, pages from magazines, and drawings all on the mood board.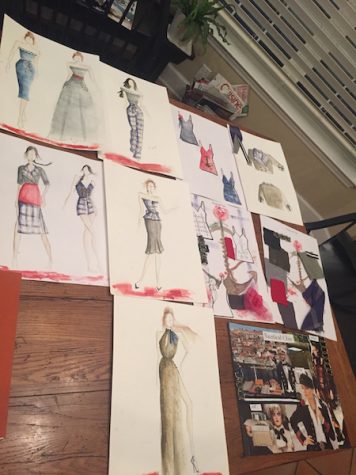 Cacciatore says "It isn't other clothes that inspire me, it's the fabric and different objects that speak to me."
Getting stuck on what to design is never a problem for Cacciatore because she has so many different ideas, that they all start to run together and she doesn't know which one to choose. The first collection has five different outfits which consist of pants, a long and short skirt, and two dresses. After drawing the designs, Cacciatore chooses fabrics, and then uses different techniques to bring her designs to life with water colors. 
The aspiring fashion designer is building her fashion design portfolio to submit to various fashion schools. Right now,  she is focusing on the requirements for the Fashion Institute of Technology in NYC, but she is still looking at other schools as a backup plan. Cacciatore is currently working with a designer named Marisu. She has taught at major fashion schools in New York, and has worked with designers like Givenchy  during Fashion Week. 
Cacciatore says, "Marisu is my hero and has taught me so much, she is my hero because she came at a time in my life where I had little support and things weren't working in my favor. I was on the verge of giving up and by a miracle I met Marisu."
During the summer, Cacciatore went to Marisu twice a week for two hours sessions.  Now that school has started, she meets with her once a week. Cacciatore is enrolled in the Art Portfolio and Erin Franklin has gone above and beyond to accommodate and help her during the process. The Portfolio class consists of Cacciatore working on the homework Marisu gives her plus the  work that fits the course's  theme which is Reflection.
Cacciatore is excited to finally see some of her designs come to life.
She remarked that "Sewing has been the hardest part of the process because I'm the least experienced in it. Drawing comes much more easily to me." 
Cacciatore is dedicated and excited to see where her talents take her because she has been working very hard and is confident her collections are going to make it far.