6 Body Positive Instagram Accounts You Need To Be Following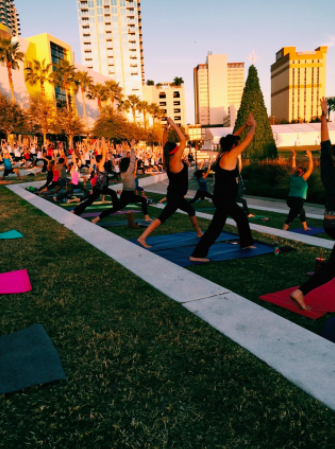 Body positivity is done on a much smaller scale. With Instagram profiles dedicated to raising awareness one post at a time These artists, writers, and activists don't necessarily make headlines, but together they do have a vast impact on the community at large. Some of the most poignant and compelling voices in the body positive movement are too compelling not to share. While the famous instagrammers are great role models, these accounts are almost more important to showcase. From big-name brands to feminist fashionistas and body image advocates, these empowering accounts are sure to boost your mood.
It's no secret that the fashion industry has long been the culprit of body shame, with thin women who warp the idea of what it means to be beautiful. All of these "misbeliefs" in the fashion industry allow for women to see a false image that is incomparable to the average woman. These body positive social media campaigns combat the narrow-minded ideal of what beauty actually means.
Dear Kate
This year Victoria's Secret launched their "Perfect Body" ad putting forth an image of what women's bodies should look like: tall, thin, blonde, and tan. Julie Sygiel had enough of the image constantly thrown at people in the form of social media and decided to take action. What started with posts on Instagram showing off women's real curves, resulted into a retailing company that actually wants to represent real women. The underwear company posted a picture on their blog identical to the one on Victoria's Secret only, this time, these ten women has varying shapes and sizes. The photo is not photoshopped or retouched and is far more representative of females.  This new campaign reflects women with different bodies.
Dove Campaign
One of the most talked about social media campaigns happens to be one centered around spreading body positivity. The best part of Dove's media campaign is that it's not just about media attention for them, Dove brings awareness through advertisements, but also is doing groundbreaking research in the field of body image and self-esteem. They champion inner beauty, and their efforts are in fact making an impact on the community. Their latest effort is #speakbeautiful, where they encourage women to engage in positive self-talk about their bodies.
#LessIsMore
The hashtag originally started as part of a petition, in which an eating disorder survivor, Erin Treloar, exposed the fashion industry's heavy reliance on photoshop to reconstruct the already female bodies. Treloar is also the founder and CEO of RAW Beauty Talks, an initiative to encourage girls to find confidence in your bodies. She stresses the importance of loving yourself and your body, which can be very challenging for women of all ages, but especially younger women, who are expected to have the perfect body all the time.  
Aerie
It all started when the American Eagle brand Aerie said goodbye to airbrushing in 2014. Since then the company has created a hashtag #AerieReal, to promote more realistic beauty on social media. Their feed comprises of Aerie customers of all different shapes and sizes, trying on their clothes. Aerie encourages all women to upload untouched photos, without the tuning and touch-up that normally come along with posting an Instagram.

Love Your Body
This movement is more of a social movement rather than a campaign, but still a moving force in changing the views of female physiques. Overtaking the internet and all social media, its message is clear; embrace your figure and love your body for what it is. Originally started by The National Organization for Women, they designated October 14 to be "Love Your Body Day" in order to take back to the oppressive beauty standards that society holds for women. It's now turned into an activist-felid movement with all forms of social media including memes, videos, advertisements, and posts.
#ImNoAngel
Similarly to Dove, Lane Bryant a large company for plus size women is redefining what society considers to be attractive. They created the hashtag #ImNoAngel and have women of all sizes submit photos of themselves using a "personal statement of confidence" along with the hashtag. The campaign is being run primarily through the plus-size retailer's Tumblr page, which already is home to an endless stream of positivity. The campaign may not be as popular as the Dove Beauty campaign, but it is still getting attention nonetheless, and definitely making waves, an ultimate sign of success.
She may be Precious. But she's no angel. #ImNoAngel #TBT @PreciousLeeXOXO pic.twitter.com/ojH43zXJll

— Lane Bryant (@lanebryant) September 15, 2016