Jesuit Football Games from a Cheerleader's Perspective
Fall brings a great deal of excitement for a number of reasons; perhaps the most anticipated of these being football season, and for Academy girls, this means Friday night Jesuit games.
A vast majority of Academy girls attend the weekly games and can typically be found mingling under the bell tower or sitting alongside members of Jesuit's Blue Tide. However, the Jesuit cheerleaders (comprised of all Academy girls) obtain a whole different perspective of the games when they join the Tigers from the sidelines.
Junior varsity cheerleader, Jules LaVoy, states "I love cheer because you really feel like a part of the game and it's fun interacting with Blue Tide."
Having experienced both going to games as a fan and a member of the cheer squad, LaVoy claims that cheering is much more fun because you actually get to participate in the event as a part of the team. LaVoy states that she especially loves doing timeout or quarter routines, because the crowd always joins in with the chants, and she can really feel the enthusiasm and energy.
Senior cheer captain, Maria Cacciatore, also points out that Jesuit's football team is doing exceptionally well this year, in fact, they won their last game 70-0. Upon each touchdown, fans react by getting on their feet to scream and cheer, meanwhile on the sidelines, the cheerleaders drop to do push-ups. Having to do as many push-ups as corresponding to the number of points the Tigers have on the scoreboard really adds up after a while, so Cacciatore admits that sometimes Blue Tide is scary to be in front of, because they always judge the cheerleaders for their push-ups.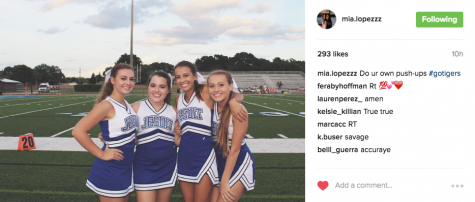 Senior varsity cheerleader, Lissa Ogden, jokingly claims, "It's all fun and games until you realize that you can barely do 14 push-ups."
Entering her fourth year as a Jesuit cheerleader, Ogden reminisces, "Cheerleading has been an incredibly rewarding experience. My high school career would not nearly be the same without my Friday night shenanigans and the girls I get to share them with."