Mayor's Youth Corps Sparks Interest at AHN
September 22, 2017
Mayor's Youth Corps is an influential organization for high school students to learn about community service and the inner workings of Tampa's city government. Many Academy students, including Junior Hira Khan, Junior Megan Devaney, and Sophomore Rachel Brown, are currently involved in Mayor's Youth Corps.
When asked about the experience she has gained from the organization, Khan ('19) said, "It's enriching and I've learned leadership skills from it."
In Mayor's Youth Corps, ninth, tenth, and eleventh grade students are able to participate in various volunteer and work opportunities.
Khan said, "The goal is for youth to learn about the intricacies of city government through discussions with city officials."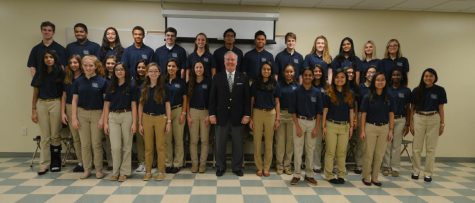 Students involved have the opportunity to meet with the Mayor of Tampa in City Hall. These meetings are called forums, and occur two to three times every year. When talking to the Mayor and other city officials, students are able to voice their opinions about local issues that concern them.
When asked about her feelings towards the forums, Brown ('18) said, "The forums make me feel like I have a voice in the community, and that my opinion matters to others. It's really interesting and exciting."
Join MYC MOJO for our August Campaign to #EndTheCycle of bullying as this new school year begins pic.twitter.com/iush35dvEl

— Mayor's Youth Corps (@tampayouthcorps) August 2, 2017
Bullying is one of the issues that has come up in the forums. Now, Mayor's Youth Corps is working on an online campaign to end bullying. Their efforts include various tweets, pictures, and videos, such as the hashtag "EndTheCycle."
When asked how she feels about the bullying campaign, Devaney ('19) said, "The campaign circling around Twitter has caused a major impact in the lives of young children. As bullying continues to be a pressuring issue in our society, it is important to raise awareness."  
Every year, the organization does about 15 various volunteering projects. Last school year, one of their biggest projects was Paint Your Heart Out. The students work together to paint and to clean the outside of a house for a low-income family.
As for this year, the Mayor's Youth Corps is still in planning for their big event.
"We have a forum coming up next month, and I am looking forward to the new topics that will be discussed," Brown said.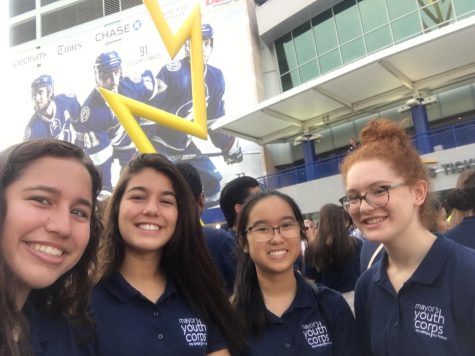 To apply for Mayor's Youth Corps, students can take a resume from the guidance office. Applications are due October 20, 2017.