Dough Nation Opens in The Heart of Downtown Tampa
October 13, 2017
Dough Nation, as store that sells cookie dough in cups and cones, opened on Oct. 6 at 11:30 a.m., where there was a big crowd waiting for the doors to open. The store first started selling their dough at Gasparilla Music Festival, and it was so popular that it expanded and moved to its current location, 505 N. Tampa St. Dough Nation all of their profits to feed the hungry in Tampa Bay through Metropolitan Ministries, a local non-profit organization. Employees at the store are students at The Metropolitan Ministries Culinary Program, and most of them are transitioning out of homelessness.
Our team is READY to serve some dough! Open til 7! Tag us in your DOUGH-licious creations. #doughnation #REPOST 📸https://t.co/Gym6IzIHmB pic.twitter.com/OVcN8q20eu

— Dough Nation (@doughnationtb) October 10, 2017
Dough Nation offers a large selection of cookie dough flavors such as: Chocolate Chip, Sugar Cookie, Double Chocolate Oreo, Peanut Butter Fluff, Sweet & Salty, Oatmeal Craisin, Toasty S'more, Vegan Coconut Macaroon, and Bakers Special. They also serve ice cream, sundaes, milkshakes, and other treats from their bakery in the shop.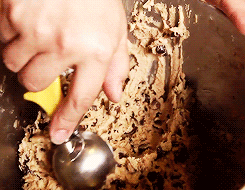 The dough is safe because it is made with heat-treated flour and a pasteurized egg product. If eating it raw is still too daunting, take it home and bake it or it will last a week in the fridge, and three months in the freezer.
Many Academy students were unaware that Dough Nation opened recently.
Grace Anthony ('20) said, "I didn't know about the new cookie dough place opening in Downtown, but now that I have heard about it I will make sure to go because I have never eaten raw cookie dough from a store before."
Madison Chandler ('19) said, "I have always wanted to eat raw cookie dough without having to make it myself! I'm looking forward to trying out the cookie dough at the new store, but I am a little leery about eating cookie dough even though it is safe because I am still afraid of getting salmonella."
Juliana Ligori ('21) said, "I am super excited to try out this new cookie dough store because cookie dough is so good, and I love how sweet it is!"