New Orleans Celebrates Mardi Gras
February 20, 2018
Mardi Gras, also known as Fat Tuesday, is the last day of Carnival season, which begins on Jan. 6. Mardi Gras marks the start of Lenten Season.
Although the first Mardi Gras in the United States occurred in Mobile, Alabama on Mar. 2, 1699, New Orleans traditions closely followed with the beginning of clubs and elaborate balls during the 1700s.  
Gabrielle Hogan ('18) says, "I love going to Mardi Gras. My dad is in a Krewe called Thoth, and they parade on the Sunday before Fat Tuesday. I am looking forward to next year because I couldn't go this year."
Clubs, also known as Krewes, parade through the city of New Orleans, throwing special objects that each Krewe is known for. The Krewe of Muses, an all women's krewe, is well-liked for throwing shoes that have been decorated with glitter, feathers, and jewels. The Muses wear togas, masks, and elaborate headdresses and wigs.
.@KreweOfMuses bathtub & rubber duckies floats at Gallier Hall pic.twitter.com/ycWFCDzr43

— Dominic Massa (@DMassaWWL) February 9, 2018
The Krewe of Zulu, a Krewe in which all members are African American men, invite men and women of all races to join them in their parade on Fat Tuesday. All riders must wear grass skirts, a black turtleneck, a black Afro wig, their assigned costume, traditional blackface makeup, and gold spray painted shoes in order to all look uniform. Every year there is a different King of Zulu. In 1949, famous musician, Louis Armstrong, was chosen as King.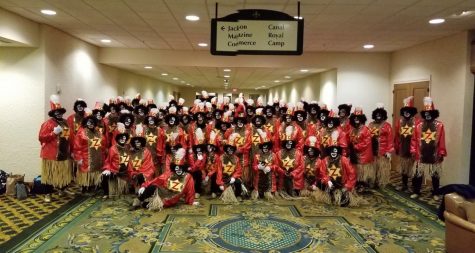 The celebration ends on Fat Tuesday at 12:00p.m, when police officers on horseback march down Bourbon Street, forcing everyone to end the celebration.