Mackenzie Mueller and Tillie Gramata travel to Chicago, Illinois for Lollapalooza
September 3, 2021
Summer of 2021, Academy sophomores Mackenzie Mueller('24) and Tillie Gramata('24) attended Lollapalooza where they saw a variety of artists perform. The festival was originated in 1991 by Perry Farrel, lead singer of funk metal band Jane's Addiction and is considered one of the largest and most popular music festivals around the world.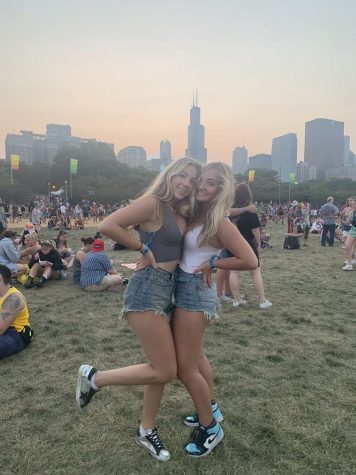 "This was the best trip I took the whole summer. I got to see all my favorite singers and enjoy the big city," Mueller said.
Annually held in Chicago's Grant Park, the four-day event attracts an audience from all across the United States, merging a diversity of music lovers. The show's lineup consisted of a multitude of hit artists including Playboi Carti, Tyler the Creator, Post Malone, and Trippie Redd who are known to draw huge crowds. Lollapalooza 2021 did not disappoint and raked in nearly 400,000 people, solidifying the festival's enormous popularity. 
Now that's what you call a Solana x Perry's Stage FINALE.💥💥💥 Photos by @SheaFlynn. pic.twitter.com/V1THLL5P7r

— Lollapalooza (@lollapalooza) August 2, 2021
Last year however, Lollapalooza 2020 was cancelled due to the Coronavirus outbreak, leaving throngs of would-be concert-goers devastated. For many, including Mueller and Gramata, this was the attendees' first concert in a long time. Since the start of Covid, the idea of enjoying concerts or any major event was completely out of the question. Mueller said, "…It was also my first concert since early 2020, which made it even more memorable." 
To keep attendance as high as pre-pandemic rates, as well as to keep the event safe, Lollapalooza took strict Covid precautions. Festival-goers had to show proof of receiving either one or both vaccine variants prior to concert entry. If not vaccinated, attendees were required to present a negative test result 72 hours before the event and wear a mask at all times.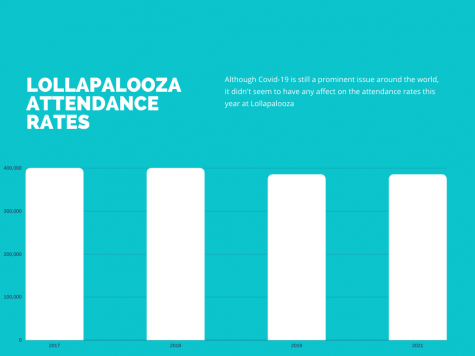 Lollapalooza's safety measures proved to be a success. Chicago's Public Health Commissioner concluded that with only 203 confirmed cases in the weeks following the festival, it was not a "super-spreader" of the virus. The positive outcome helped to maintain Lollapalooza's stellar reputation amongst the panoply of music festivals. 
"We had been looking forward to the concert for months and it was definitely worth the wait," said Mueller, in hopes of returning with Gramata to Lollapalooza next summer.