The Seoul Halloween Accident
November 7, 2022
On October 29, 151 people were left trampled to death on the streets of Seoul, South Korea. Halloween celebrations turned deadly when tens of thousands of people flooded Itaewon, a popular neighborhood in Seoul. The festivities were highly anticipated as they were the first Halloween celebration in Seoul since Covid restrictions had been lifted. Eventually, the overwhelming crowds led people to panic. They started pushing against each other, looking for open space. By Sunday, October 30th 3,580 missing person reports had been filed with the police. Sophomore Staff Writer Brooke Fechtel interviewed Isabella Morgan, who has lived in Pyeongtaek-si in South Korea for two years and attended the celebrations. Please note that Q refers to the questions asked by Fechtel and A refers to the answer given by Morgan.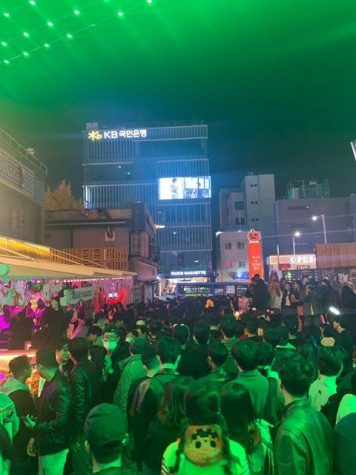 Q: Why did you attend the celebration and what was the vibe when you first arrived there? How did you feel?
A: "[My family and I] decided to attend [the event] because [we] love Halloween and Itaewon hadn't had an event like this in over three years. When we first arrived, it was fun. It was clear that everyone was there trying to have a fun time. I knew [the event] might've become unsafe at any point, even hours before the actual crush occurred. There was this one point in one of the alleys where it was so crowded, that we weren't even walking. We were just getting shoved all together as a crowd, and I knew that could've become very unsafe very quickly. Everything just kept on getting more and more crammed and there was more shoving and pushing. People [were] just trying to get out of there." 
Q: How do you feel now?
A: "Knowing that I was around people that died is such a hard thing to get around. And having pictures of those same places all over the news in my camera roll feels really weird. Grieving feels weird because I ended up leaving an hour before [the accident] happened, but I'm doing better." 
Q: What would you like high schoolers at my school to understand about what you experienced that we can't see on the news? Something you might want them to know?
 A: "I would like them to know that it was fun. Everyone was there to have a fun time and nobody purposely started it. It was just too many people in too small of an area. I'm actually really glad that I went, even though it could've gone really bad for my family."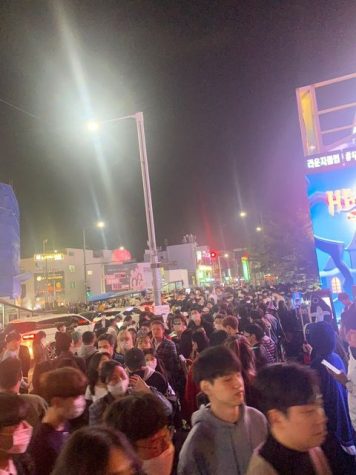 Many Academy students, and students all over the world, may encounter a large event or celebration such as the one in Seoul. It is important that students realize the dangers of crowded spaces. Last year at the Astroworld Festival in Houston, at least ten people were killed with multiple other injuries during a crowd surge at the rapper Travis Scott's concert. It is essential to know when an event stops being fun and can become unsafe.