Actor Danny Masterson was often known for his leading role in the late nineties sitcom, That '70's Show; however, nearly twenty years after the show's run, Masterson might now be better known as the celebrity who (finally) will pay for his crime. Masterson was convicted and sentenced last month to 30 years in prison for raping several women during the show's run. Masterson's renowned costars, Mila Kunis and Ashton Kutcher, also received backlash in relation to the uncovered case.
Danny Masterson's crime first came to the media in 2017, when three women accused him of sexual assault. Masterson pleaded not guilty, and the case was further investigated when the women sued Masterson for his crimes. The victims stated how Masterson stalked and raped them in the early 2000s with the head of Scientology, a movement that Masterson and a portion of the women are a part of. Masterson first headed to court to face charges for the three victims in the fall of last year.
After the trial concluded, the victim's attorney, Alison Anderson stated, "[they] have displayed tremendous strength and bravery, by coming forward to law enforcement and participating directly in two grueling criminal trials."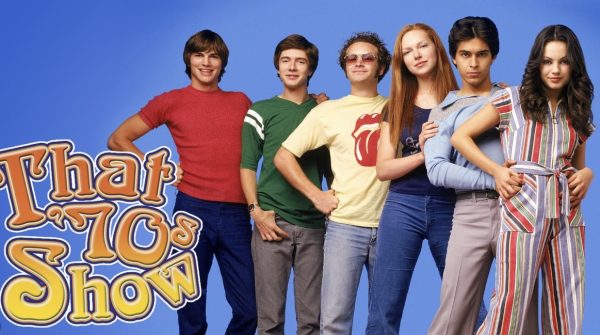 In November 2022, Masterson was tried for several accounts of rape. However, the trial became a mistrial with a deadlocked jury, and the jury was set to acquit him from the charges, as he claimed the claims were false. In his second trial that took place in September 2023, legal authorities did not try Masterson for the third accusation with insufficient evidence, but did convict Masterson for the other two cases. The case holds controversy with the inclusion of Scientology, a religious cult that is notorious for brainwashing its members and holding back its true mission, along their extreme efforts to hide the assaults done by Masterson. Ultimately, Masterson received a thirty year to life sentence, with the opportunity of parole in twenty years. The successful prosecution unveiled the upsetting efforts of the Scientology board, but also sparked controversy on the idea of celebrity predators not receiving an adequate punishment for their violent actions.
One victim, known as N. Trout, who knew Masterson through Scientology, described her feelings regarding the conviction by stating,"I am experiencing a complex array of emotions — relief, exhaustion, strength, sadness — knowing that my abuser, Danny Masterson, will face accountability for his criminal behavior."
Mila Kunis and Ashton Kutcher, who starred opposite Masterson on That '70s Show, faced critical controversy due to the letters they wrote to vouch for Masterson's sentence to be minimized. The letters were requested by Masterson's parents for the couple to write about their relationship with Masterson. After critics questioned Kunis and Kutcher's compassion towards the perpetrator of rape, the pair released a video explaining their train of thought regarding the letters. In the video, they state that the letters were written for the sake of Masterson's family, and they only described their personal relationship with him. They also added how they both support victims and do not deny the legitimacy of Masterson's conviction. Shortly after posting the video, Kutcher resigned from his position as chair of Thorn, an anti-child sexual exploitation organization. The couple are still currently facing issues, as many people went online to pan the video as the pair defending a rapist.
View this post on Instagram
Isabella Zerrate ('26) stated, "It was wrong for Mila and Ashton to write the letter because their popularity shouldn't have influenced the sentence of the case, it should've been completely up to the judge."
With the inclusion of Masterson's case and the Kunis and Kutcher controversy regarding their letters, the legitimacy of celebrities' punishments have continually been questioned. This idea has been seen time and time again with celebrity cases such as, OJ Simpson's murder trial and Kevin Spacey's sexual assault trial, as both prominent stars received either no punishment or a mild one at best. It is seen through this time that the fans and fame Masterson has accumulated from That '70s Show has partially acted as a safety net from repercussions of his violent actions, including the mistrial that occurred last year. People also question the authenticity of Mila Kunis and Ashton Kutcher's apology, as they do not apologize for contributing to defending a convicted rapist. Throughout time, it is seen time and time again how celebrities are often not held accountable for their actions, but on the other hand, there has also been improvement regarding this idea, since Masterson is facing a surplus of jail time.
Sophomore Maddie Fox, regarding celebrity privilege, said, "Celebrities always seem to get away unscathed from the problems they cause with no true consequence." In Masterson's case, facing thirty years in jail, the pattern has been broken.