Celebrity pairing, Joe Jonas and Sophie Turner, had been a favorite couple since the pair began dating in 2016. However, after four years of marriage, the stars have received a surplus of publicity regarding divorce rumors that sparked in late August. Since then, there have been rumors denied, confirmation of divorce, concert confessions, and most recently, a lawsuit regarding child abduction. Now, fans are crushed as they watch the couple inflict a custody battle over their two young daughters and lose the image they once had as an "it couple". 
Joe Jonas, a renowned member of the Jonas Brothers band, first set his sights on the Game of Thrones star in 2016 through her dms. Jonas was seven years her senior, and twenty year-old Sophie was just getting acclimated to life as a celebrity when the pair met at a British pub. Just a short year after making their relationship public, Jonas popped the question to Turner, and the two got married twice in 2019. The pair got acknowledgment for their vastly different two weddings, as one was a small ceremony in Las Vegas, and the other was a luxuriant wedding in Southern France. While the couple had been consistent with keeping their two young daughters out of the public eye, Jonas always praised his wife for being an amazing mother to their daughter Willa, born in 2020, and their younger daughter whose name is yet to be discovered, born in 2022.
Jonas and Turner were often talked about for their numerous red carpet appearances, as well as their height difference breaking Hollywood norms. The A-list singer had also dedicated the song Hesitate to Turner, which he often sang at the concerts she attended. Since the couple was always so open in the public eye, most fans took their split as a surprise, and now are even more astonished regarding the immense controversy it has sparked.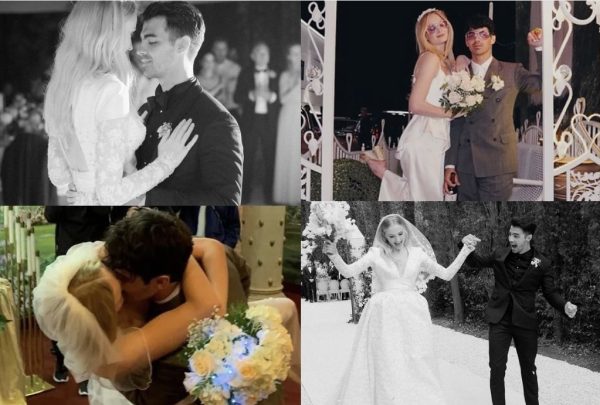 The first problems between the couple caught the media's eye in late August 2023, when sources such as E!news and TMZ posted the divorce allegations. Fans spent weeks speculating what was really going on between the pair. Fans were later comforted when Jonas shut down the rumors by posting pictures and performing while wearing his wedding band along with Turner attending Jonas' The tour. Jonas revitalized the breakup by filing for divorce on September 5th, and posting a joint instagram statement confirming the pair were choosing to end their marriage.
Jonas also added more publicity to the divorce by addressing it during one of his concerts, as he shed tears and said he loved his family and friends for helping him get through this. Another example of how Jonas contributed to his divorce's press was taking his daughters to brunch, and allowing them to be seen in the public eye by TMZ, something that Turner was adamant about not doing. Currently, Jonas is with his two daughters, living in a NYC apartment, and facing criticism because of being upfront about the divorce, and obviously showing that he and Turner are not on good terms with the inclusion of his children in public. 
Sophomore Yasmeen Luzod states, "It seems like Joe Jonas is just playing the victim during the breakup. The professional route would be to stay quiet, but instead he is talking about it to his fans and bringing the kids out into public." 
According to Sophie Turner, she didn't find out about her divorce until Joe Jonas announced it on social media, and she also added that he decided their marriage was over after one fight they had prior to his post. Adjacent to her statement, Sophie filed a lawsuit against Jonas for child abduction. This is because Jonas took both of their young daughters under his custody in New York, and allegedly refused to give Sophie the girls, nor their passports so she could bring them to the UK, where the family was originally supposed to be moving to. Turner has suffered from postpartum depression and had issues with the demanding schedule of her career, Jonas' life, and motherhood.
People advocate for Turner as Jonas' team has consistently posted about Turner in a bad light throughout the divorce settlement. Turner is also being ridiculed by the media for looking to be a "party girl" and not adhering to her children. This is being seen through Jonas' PR team actively working to post pictures of Joe Jonas with their children and at brunch, and alluding to the idea that he is taking care of the two children while Sophie is out with her friends and "partying", when in reality Jonas is restricting her from the kids and he has been seen as someone who has been a partier in the public. 
View this post on Instagram

Sophie states that she requests, "the immediate return of children wrongfully removed or wrongfully retained," regarding her lawsuit filed against Jonas on September 20th. 
With Sophie Turner and Joe Jonas' divorce in the media and Turner being criticized for her marriage ending, the media has made it clear that this is a divorce where each side will be penalized for their decisions, and people will make up their mind on who to side with. This divorce brings light onto the idea that no woman in the limelight dodge criticism for her familial and professional matters.
Currently, Sophie Turner has been negatively portrayed as a bad wife and mother for valuing her career, and wanting to move her family back to her original town. Turner has been silent and shown signals of wanting to move on from the end of her marriage. The question that comes with this divorce, is if the wife can ever be left alone, and not seen as the problem when her marriage decides to end? This has been seen for years and years, such as Jennifer Aniston being picked on for not having children with Brad Pitt, and later addressing her infertility issues. The ridicule Turner has faced reinstates how women are usually blamed in the media for their divorce, and also depicts the idea that the public often protrude into celebrities' very personal experiences with criticism.  
Anna Hahn ('26) says she hasn't been a fan of Joe Jonas since his breakup with Taylor Swift, "Once you break up with someone [Taylor Swift] over a twenty-five second phone call, you shouldn't be trusted to take a breakup seriously again."