Prayer service commemorates International Day of Peace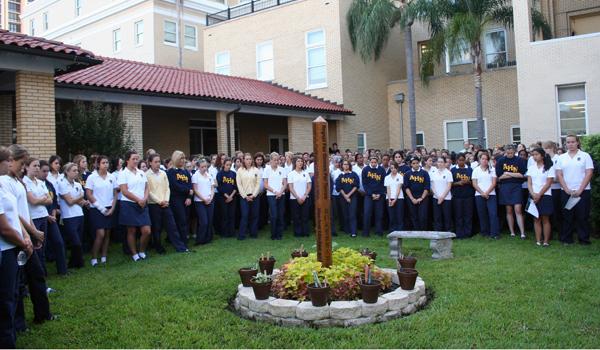 Every year, as Academy students open their new planners to September 21, they notice the bold title etched at the top right that reads "International Peace Day."
With its main purpose to promote world peace, the International Day of Peace inspires individuals, organizations, and nations to create shared acts of peace. Devoting itself every year to this purpose, the United Nations created the global observance day for nations to partner throughout the world to raise awareness of the necessity for peace.
This year for the first time, Academy students joined the world in its quest for peace by congregating around the school's new Peace Pole to pray and reflect on the day's purpose. Erected in 2009, the pole symbolizes the school's commitment towards achieving peace.
Similar to 200,000 other peace poles throughout the globe, the inscriptions on AHN's Peace Pole proclaims, "May Peace Prevail On Earth" in different languages. As students pass by the pole daily, it reminds them that no matter what their backgrounds are or what languages they speak, everyone should work together to achieve peace.
Sister Mary Patricia Plumb, Director of Campus Ministry and organizer of this year's observance, believes that the pole's core message is "Peace has to begin with the individuals who make it happen."  
In the opening to the prayer service, she urged Academy students to dedicate themselves to service and act as stewards to create peace in the world.
Although achieving world peace may sound like an overwhelming task, Sister Plumb said students can easily make a difference by dedicating their time and efforts towards others. Mother Theresa's message, "A smile is the beginning of peace," depicts that all students can contribute to peace through the simplest acts of kindness.
Sister Mary Patricia also advocates that students can work toward peace by praying, becoming involved in one of the four mission trips, and volunteering their efforts and talents in service projects.
Whether in Nepal, Peru, the United States, or any of the other 200 participating countries, individuals can witness different acts of peace within their communities.
This celebration for peace, whether personal or political, incorporates a country's  cultural and moralistic traditions through vigils, concerts, gatherings, and forms of worship.
Other examples include cities that erect peace poles, individual citizens who raise a World Peace Flags, organizations that set goals to prevent nuclear warfare, children who knit quilts for troops stationed far from home, or others who at noon reflect on the day's purpose through a moment of silence.
According to  the 2009 International Day of Peace  Report, thousands of schools participated in Peace Day events by creating "peace pinwheels," while 1.2 million Afghani children were vaccinated with polio immunizations.  In addition, over 100,000 people participated in peace concerts and fund drives around the world with the same message: if the world can make such an impact in one day, imagine what the world can achieve in a year!
Service "must happen in our own hearts, families, and homes," reiterates Sister Plumb.  She believes that students must realize their roles in the efforts for peace.  Whether in small ways,  or big,  students can impact their communities by sharing their skills, talents, and compassion to combat the negative influences that currently hinder world peace.
Sister Mary Patricia believes that people are the main authors for peace. "We make peace happen."