Obama urges Americans to unite in tragedy's wake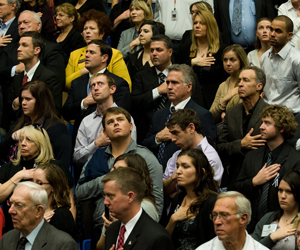 TUCSON, Ariz. — With a plea to the nation to overcome its divisions, President Barack Obama paid tribute to the victims and heroes of the weekend shooting spree in Arizona and sounded a call for Americans to heal themselves.
Obama came to the University of Arizona, where he spoke to a cheering crowd of more than 26,000 — including 13,000 in an overflow area in Arizona Stadium — all seeking solace after days of tumult in the wake of the attack in Tucson that killed six and injured more than a dozen others. The president and first lady Michelle Obama earlier visited Rep. Gabrielle Giffords, D-Ariz., who was critically injured in the violence that shocked the nation and prompted a debate on civility in politics.
Most of his speech paid tribute to the victims, especially to 9-year-old Christina Taylor Green, the youngest of the slain. Christina has become a symbol for those, including her parents, who have called for an end to such violence. She had gone to a Safeway shopping center to meet Giffords, who was holding a meeting there with constituents Saturday morning when the attack occurred.
"I want us to live up to her expectations," Obama said. "I want our democracy to be as good as Christina imagined it. I want America to be as good as she was. All of us — we should do everything we can to make sure this country lives up to our children's expectations.
"If there are rain puddles in heaven, Christina is jumping in them today," Obama said near the end of almost 35 minutes of speaking that was frequently interrupted by applause. "And here on Earth, we place our hands over our hearts, and commit ourselves as Americans to forging a country that is forever worthy of her gentle, happy spirit."
While the president honored all of the victims and praised the heroes whose actions prevented more deaths on Saturday, he also was careful to acknowledge the debate about political culture that has swirled in recent days. Some have blamed partisan rancor as playing a role in the violence, while others argue that the attack was the work of a lone gunman whose motives could be far more limited.
"When a tragedy like this strikes, it is part of our nature to demand explanations — to try to impose some order on the chaos, and make sense out of that which seems senseless," Obama said. "Already we've seen a national conversation commence, not only about the motivations behind these killings, but about everything from the merits of gun safety laws to the adequacy of our mental health systems.
"But at a time when our discourse has become so sharply polarized, at a time when we are far too eager to lay the blame for all that ails the world at the feet of those who happen to think differently than we do, it's important to pause for a moment and make sure that we are talking with each other in a way that heals, not in a way that wounds."
Obama went on to say, "The truth is that none of us can know exactly what triggered this vicious attack. None of us can know with any certainty what might have stopped those shots from being fired, or what thoughts lurked in the inner recesses of a violent man's mind."
But he warned that Americans must overcome their divisions.
"What we can't do is use this tragedy as one more occasion to turn on each other. That we cannot do. As we discuss these issues, let each of us do so with a good dose of humility. Rather than pointing fingers or assigning blame, let us use this occasion to expand our moral imaginations, to listen to each other more carefully, to sharpen our instincts for empathy, and remind ourselves of all the ways our hopes and dreams are bound together."
Earlier, the Obamas visited with Giffords and her husband, Mark E. Kelly, an astronaut, for about 10 minutes in the intensive care unit of University Medical Center, where the congresswoman has been treated since Saturday's attack.
"Gabby opened her eyes for the first time," Obama told the cheering crowd.
The visit with family and victims was designed to send a personal message. "The president wanted to begin this solemn trip by stopping first at the hospital where Congresswoman Giffords and others continue to recuperate," White House press secretary Robert Gibbs said.
Accompanied by his wife and a bipartisan delegation, the president landed in Arizona aboard Air Force One and visited the hospital before going to the University of Arizona for the memorial service, called "Together We Thrive: Tucson and America."
In all, they spent 45 minutes in the hospital, meeting with at least four other patients, shaking hands with doctors, nurses and staff members. They also met with about 20 people on the trauma team that received the victims Saturday.
They left the hospital just before 5 p.m. for the university's McKale Memorial Center, where the president spoke. There, the Obamas visited privately with 13 relatives of victims, Gibbs said. Many in the crowd wore black-and-white ribbons to show solidarity with the families.
Thousands had waited in line to enter the McKale Center. The university set up an area to handle the overflow of students and others who camped out on the sidewalk under the desert sun.
"This is a hopeful moment, a historic moment, that all of us can come together and mourn. Nobody is a Democrat, a Republican, a 'tea party' member. We are all Americans," Mike Wilson, 61, a Native American activist from Tucson, said while waiting in line.
It is that kind of bipartisan harmony that the president was hoping to achieve in his speech, which many believe will be crucial in his effort to set a tone for the next two years of divided government in Washington.
Earlier, Obama left a Washington still in mourning over the weekend attack. The House adopted a resolution paying tribute to Giffords, who was meeting with constituents outside a Tucson supermarket Saturday morning when a gunman opened fire, killing six and injuring more than a dozen people, including Giffords.
"We are called here to mourn an unspeakable act of violence," an emotional House Speaker John A. Boehner, R- Ohio, said, opening a day of reflection and prayer.
"Look at Tucson right now and you will be reminded that America's most plentiful source of strength is her people," Boehner said, wiping away tears. "No act, no matter how heinous, will stop us from doing our duty and being among the people we serve."
In addition to honoring the dead and wounded, the resolution also thanks those who apprehended the suspect, Jared Lee Loughner, who faces five counts of murder and attempted murder of federal employees. The resolution calls for an open society in which "the threats of violence cannot silence the voices of any American."
House Minority Leader Nancy Pelosi, D-Calif., sounded a similar note. "May this resolution remind us of the urgent need to uphold our democratic values to treat one another with courtesy and respect," she said.
Investigators have said that they believe Loughner acted alone. Even though he posted anti-government materials on the Web, any motive he might have had is unknown. Nevertheless, the shooting has become a sounding board for the debate on whether political rhetoric has become too inflamed.
Having the president in town was a comfort to many of those outside the McKale Center, said Mai-Ling Lem, 35. She said she had gotten a baby sitter and staked out a spot in line at 8 p.m. Tuesday. She was disturbed by the shooting, she said, and came looking for peace. She found it before she even made her way inside.
"One person does not define Tucson. The people that have come here today to show their support for the victims and Obama, that speaks volumes," she said. "This is who we are."
———
(Memoli reported from Tucson and Muskal from Los Angeles. Los Angeles Times staff writer Molly Hennessy-Fiske in Tucson contributed to this report.)
———
(c) 2011, Tribune Co.
Distributed by McClatchy-Tribune Information Services.
—————
GRAPHIC (from MCT Graphics, 202-383-6064): 20110112 poll GIFFORDS