Gadhafi no match for eastern Libyans' resistance streak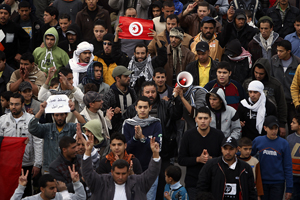 BEYIDA, Libya — Giddy teenagers rumbled down the road Wednesday on top of a tank they had seized from the Libyan army. A 13-year-old manned a checkpoint, happy to be out of school. Young men in baseball caps and trendy sneakers chanted, "This is a new generation!" as they marched near the state security compound they had captured last week after ramming a tractor through the gate.
These surreal scenes unfolded in Green Mountain — the verdant craggy belt of eastern Libya that forms the backbone of the uprising to overthrow Moammar Gadhafi.
The youths here won pitched battles against Gadhafi's mercenary-backed army, leaving a trail of charred government offices and bullet pocked walls from the coastal cities of Shahat to Beyida.
The people who are in charge of what they call the "liberated east" live in an anarchic limbo. Out of enemies to fight, residents of the region are imploring Western powers for support as they wait for the regime to fall and brace for retaliatory strikes in the meantime. At least 90 civilians had died as of Wednesday, according to doctors and witnesses in Beyida where mourners crowded funeral tents.
Gadhafi "will use everything at hand, maybe even chemicals," said Khalifa al Daghari, a science professor at a local university. "We're looking for help from the world. They should stop this killing of civilians establish a no-fly zone and send medical aid."
The people of Green Mountain are no strangers to resistance; their beloved resistance hero Omar al Mukhtar fought the Italians here early in the last century, and Gadhafi bombed them in the mid-1990s after a short-lived uprising.
And yet residents said they had never experienced anything like the violence Gadhafi unleashed on peaceful anti-government demonstrations similar to those in Tunisia, Egypt and several Middle Eastern nations.
When Gadhafi security forces began shooting on the unarmed marchers, youths in several towns laid siege to government offices with the help of army units that chose to defect rather than fire on their countrymen.
"He didn't use water (cannons) or rubber bullets. He used live ammunition from snipers," said Judge Mustafa Abdel-Jalil, the justice minister who resigned Sunday in protest and returned to his native Beyida.
"The martyr's blood is very precious," Abdel-Jalil said, "They were the first (to die), and we're ready to follow them."
Abdel-Jalil and other prominent Green Mountain residents have formed four committees to address the chief concerns of security, food, medical care and utilities. The Gadhafi government has warned it would cut of eastern Libya's electricity and water and prevent food and aid supplies from reaching the area.
Another worry is the huge arsenal now in the hands of young men after sympathetic soldiers opened up army warehouses to help the locals defend themselves. The former justice minister and other elders said they must do more to stop the unchecked flow of weapons, which could lead to catastrophe if tribes turn on one another and civil war erupts.
"The army opened the weapons stores to provide the people with arms to protect themselves because they knew Gadhafi wouldn't be easy to deal with" said Col. Ahmed Idris, a defector from the Libyan air defense.
The grim prospects of the coming days did little to dampen the celebratory mood of residents in the Green Mountain. Young men and women gathered in front of the main government hall in Beyida taunting Gadhafi with chants such as "it's your turn now dictator!"
One of the fiercest battles in the Green Mountain took place at the small civilian airport in the town of Labraq, where locals fought Libyan troops and allied African mercenaries for days. On Wednesday, dozens of heavily armed young men clambered on top of tanks and strolled proudly throughout the blood-spattered, bullet littered grounds of the airport. Locals had strewn massive stone blocks and burned out cars along the landing strip to prevent planes from arriving with more of Gadhafi's forces.
A bus that was said to have ferried government mercenaries to nearby towns was charred and marked with red graffiti that read "Down with the regime!" as in other eastern cities, Gadhafi trademark green flag had been replaced with the old Libyan flag from the 1950s.
In the Green Mountain town of Shahat, dozens of young men gathered along a main thoroughfare they had renamed Roqaya Street in honor of a 10-year-old girl who was killed as she watched the clashes from her balcony.
The youths were celebrating their improbable victory near the katiba, a compound that once housed about 2,000 of Gadhafi's security forces. On Wednesday it was blackened and in ruins, with car-sized holes punched through the fortress' exterior. An abandoned tank sat outside.
The battle began on the afternoon of Feb. 17 when hundreds of men from Shahat staged a peaceful demonstration, several witnesses said. Security forces and mercenaries fired on the marchers, cutting down the unarmed men.
Furious over the attack against their fathers and brothers, boys — some as young as 10 — grabbed sticks and rocks and set off for revenge.
"My three sons fought, including my youngest who is 15 years old," said Abdel Hamid Gibril, a law professor. "We were running after him, I and his mother, telling him to just stay but he didn't even talk to us."
The man who punched through the front gate in a tractor was shot and wounded. Once the compound was open, the youths charged in and fought hand-to-hand with African mercenaries and Libyan regime loyalists.
By the time the battle ended the next night, 18 people were dead and hundreds were injured, according to the surviving fighters and their families. The fortress — and its stockpile of arms — belonged to the people.
"After that I don't care if I die or live," said Awad Mohammed, a professor of modern Arabic literature whose five sons fought. "I saw that my boys refused this regime."
———
(c) 2011, McClatchy-Tribune Information Services.
Visit the McClatchy Washington Bureau on the World Wide Web at www.mcclatchydc.com.
—————
GRAPHICS (from MCT Graphics, 202-383-6064): 20110223 Evacuate LIBYA, 20110223 MIDEAST update, 20110223 Gadhafi bio