Jaime O'Brien named as one of five YDP playwrights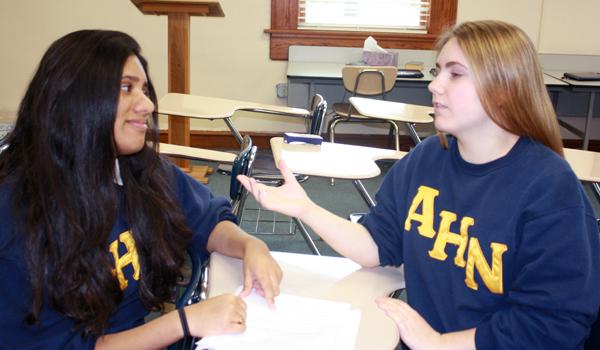 Academy senior Jaime O'Brien has been selected as one of five winners of this year's Young Dramatists' Project (YDP '11), a contest sponsored by Gorilla Theatre of Tampa. This award provides O'Brien the opportuntity to produce her play with four other winning plays set for production at the theatre's location in Drew Park on June 2-12 .
Beginning April 1 , all five winners will attend writing workshops and receive ongoing individual mentoring by Dramaturge and YDP Artistic Director James Rayfield. As part of preparation for their debut production, the five young playwrights will acquire experience in dramaturgy, casting and rehearsal. In addition, each winner will receive a $250 royalty and a membership in the Dramatist's Guild.
Ms. Bridget Bean, Managing Director of Gorilla Theatre, noted, "YDP is the only opportunity for teen writers to produce plays in the Tampa Bay area."
In its eleventh year of sponsoring YDP, Gorilla Theatre has received recognition for its support of emerging new drama talent. The theatre offers each semester an opportunity for young actors to hone their dramatic skills. The program, Teen Actors Gang at the Gorilla (TAGG), requires a serious commitment to attending two-hour classes each weekend and working on "homework" activities each week. Students in the 2010 fall session worked on monologues and scene work and collaborated on a full production of a short play for the spring session.
O'Brien faced stiff competition from other high school playwrights in the Tampa Bay area, including students from Pasco, Pinallas and Hillsborough Counties. The other four winners are from Plant and Freedom High Schools in Tampa and from Shorecrest and Northeast High School in St. Petersburg.
This year's YDP one-act plays offer a wide variety of themes designed to attract audiences old and young alike:
Waiting for Abigail written by Ana Krsmanovic and Hannah Mribiha (Northeast High School/American Stage writing program). A nifty tale of three men a in a hospital waiting room who have more in common than they thought. Sponsoring Teacher: Mr. Steve Garland
Hermosa Extrano: Beautiful Stranger written by Zachary Mullen (Freedom High School/Teen Actors' Gang @ the Gorilla). A complex psychological drama with a poetic flavor. Sponsoring Teacher: Ms. Jenny Holden.
Have You Ever? by Jaime O'Brien (Academy of the Holy Names). A colorful pastiche of country club politics and snobbery. Sponsoring Teacher: Ms. Edie LeBas
Just the Beginning by Emily Pittman (H. B. Plant High School). What do characters do when their writer takes a break? A lighthearted look at reality and identity. Sponsoring Teacher: Mr. Teryle Traver
One Summer by Jennifer van Gelder (Shorecrest Preparatory School) High school friends grow up – and apart – when their relationship undergoes a profound change. Sponsoring Teacher: Mr. William Leavengood.
.Gorilla Theatre is located at 4419 N. Hubert Avenue in the Drew Park area of Tampa, and is slightly northwest of the Raymond James Stadium, Steinbrenner Field and the Hillsborough Community College Campus, all of which are located on North Dale Mabry Highway. Tickets prices for the June 2-12 YDP Award productions are $15 for students and $20 for adults and are available now on the Gorilla Theatre website.