Academy graduates celebrate with traditions and joy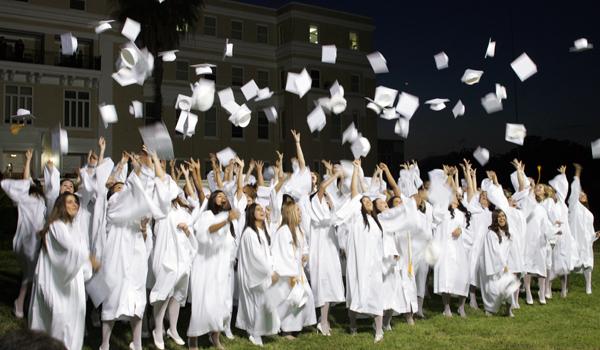 Monday evening, May 16, was a halcyon evening at Academy – the weather was perfect and the setting sun reflected the joy of parents and guests as they entered the Brady Center to the tunes of a string quartet to await the beginning of commencement ceremonies for the 76 members of the Class of 2011.
After a rush of preparations in the fourth-floor senior lounge, the class, dressed in traditional white gowns, began the long descent to the courtyard to process with proud faculty, administration, and the Most Reverend Robert N. Lynch. Following them, dressed in white dresses and red satin sashes, were flower girls Bella Besece, Sofia Pardue, Victoria Merriman, Andrea Rogas, and Chloe Mintz.  As daughters of Academy alumnae, the first-grade flower girls symbolize each year the evolution of an Academy education from K-12.
After the "Star Bangled Banner," Class Vice Presidents Paige Russell and Mackenzie gave the invocation, followed by a welcome address by President Dr. Harry Purpur.  Lindsey Backman, salutatorian, inspired the class with her words of tribute to their achievements, faith, and sisterhood.  Principal Mrs. Camille Jowanna announced the honors of the class and assisted Bishop Lynch with the conferring of honors, while the flower girls presented graduates with the traditional bouquets of red roses.
Lindsey Hahn, class valedictorian, in her address, provided a good balance of levity and solemnity, challenging her class "to uphold the values of the Academy, to work for justice and to lead by example as women of character and dignity."  Bishop Lynch provided the closing remarks, reminding the class to take their "Easter spirit" of faith with them in their future endeavors in life. Senior Vice Presidents Francesca Staffetti and Paige Schaefer gave the benediction prior to the graceful procession of the graduates.
Out on the front lawn, graduates tossed their hat upon the cue of Mrs. Jowanna standing high above the lawn on the third-floor balcony.   After rounds of congratulations from well-wishers, the class climbed the four floors to return their gowns and begin their new lives as Academy grads.   
Click for commencement addresses of Salutatorian Lindsey Backman and Valedictorian Lindsey Hahn.